WASHINGTON - Leaders from the world's major economies on Saturday kicked off a summit to tackle the ongoing financial crisis and explore measures to prevent similar crisis in the future.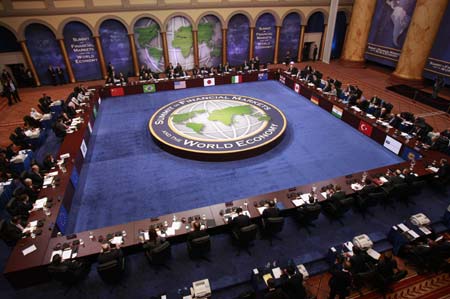 An overall view at the G20 Summit on Financial Markets and the World Economy at the National Building Museum in Washington, November 15, 2008. [Agencies]
The summit, billed as the first in a series, is attended by leaders from the Group of 20 and top officials from major international institutions such as the World Bank and the International Monetary Fund.
The summit is held in two sessions which will last for about five hours. Each leader is expected to deliver a 15-minute speech.
Speaking hours before the summit, US President George W. Bush said there's more work to be done to deal with the current global financial crisis, and lauded world leaders for reaffirming their commitments to free-market principles.
"I am pleased with the progress we're making on -- to one, address the current crisis. I am pleased that we're discussing a way forward to make sure that such a crisis is unlikely to occur again. And I am pleased that the leaders reaffirmed the principles behind open markets and free trade," he said.
However, he warned "this crisis has not ended," and "there's still a lot of more work to be done."
A joint communique is expected to be issued as the talks end in the afternoon, followed by a briefing news conference by President Bush.
It is the first time for the G20, which usually brought together finance ministers and central bankers at annual meetings, to hold a summit in view of a worse economic crisis since the 1930s.
The G20, an informal arena to facilitate dialogues between major industrial and emerging-market countries on key issues related to global economic stability, was founded on September 25, 1999 in Washington.
It serves as an international forum of finance ministers and central bank governors from Argentina, Australia, Brazil, Britain, Canada, China, France, Germany, India, Indonesia, Italy, Japan, Mexico, Russia, Saudi Arabia, South Africa, South Korea, Turkey and the United States, the European Union and the Bretton Woods Institutions, namely the International Monetary Fund and the World Bank.