BANGKOK, Thailand -- Thailand's fugitive ex-Prime Minister Thaksin Shinawatra has divorced his wife in Hong Kong, Thai newspapers reported Saturday.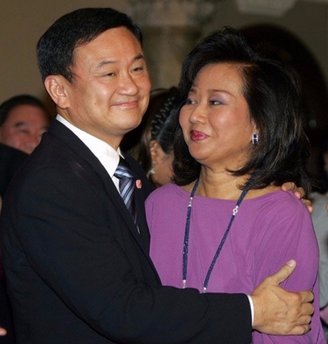 File photo shows Thaksin Shinawatra (L) hugging his wife Pojaman. The two divorced at the Thai Consul General Office in Hong Kong, Thai newspapers reported Saturday. [Agencies]
Thaksin and his wife Pojaman Shinawatra, who married in 1976, divorced at the Thai Consul General Office in Hong Kong on Friday, the English-language Nation and Bangkok Post newspapers reported.
The stories could not be independently verified with the consulate, which is closed through the weekend, and repeated phone calls to Thaksin confidants were not answered.
Ministry of Foreign Affairs deputy spokesman Thanee Thongpakdi said Saturday the ministry does not comment on individual cases.
"We received a report that they went to the consulate to file for a divorce but it was not officially confirmed since it's personal business and not a matter of the state," another foreign ministry official said on condition of anonymity because he was not authorized to speak to media.
Thaksin's spokesman in Thailand, Pongthep Thepkanjana, said he could not confirm the reports.
Thaksin's close political ally Jakrapob Penkair confirmed Friday that the former prime minister was in Hong Kong, but he gave no details. Jakrapob served as government spokesman while Thaksin was prime minister.
Thaksin was sentenced in absentia by a Thai court in October to two years in prison for violating a conflict of interest law while he was prime minister. Britain revoked his visa last week while he was traveling.
The Bangkok Post cited an unidentified political observer as saying the divorce could have been motivated to protect the couple's assets, which are mostly held in the name of Pojaman.
Thaksin and his family declared assets of 15.12 billion baht (then worth $406 million) when he took office in 2001, according to the National Anti-Corruption Commission.
Thaksin was prime minister until September 2006 when he was toppled in a bloodless military coup. He still wields influence with the government, and protesters have occupied the main government office in Bangkok for the past three months seeking to force his allies from power as well.