WASHINGTON -- Al Qaeda in Yemen has claimed responsibility for a suicide car-bomb attack on the US Embassy in September that killed 17 people, and warned of more attacks on the Arabian Peninsula, a US-based terrorism monitor said on Friday.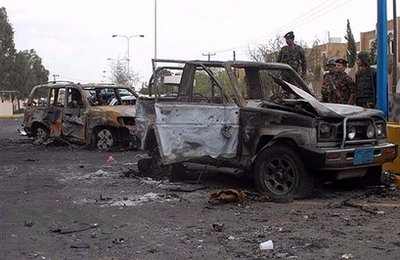 Yemeni soldiers secure the area at the site of an attack that took place outside the US embassy compound in the Yemeni capital Sanaa in September 2008. An Al-Qaeda group says seven of its fighters were killed when they attacked the US mission in Yemen in September and also claims an embassy official died in the strike, a US monitoring service reported on Friday.  [Agencies] 
Related readings:


 Yemen nabs 30 after embassy attack


 US embassy in Yemen attacked


 16 dead in attack at US Embassy in Yemen
The claim, which the SITE Intelligence group said was posted to a militant website this week, said the attackers were responding to a call by al Qaeda leader Osama bin Laden and his deputy, Ayman al-Zawahri.
It described in detail how al Qaeda attackers in two vehicles carried out the September 17 car bomb attack. It hailed the memory of the six attackers who died in explosions outside the heavily fortified embassy. A Yemeni embassy guard, an 18-year-old American woman and her Yemeni husband were among the other 11 killed.
"Tighten your guard (and) increase your security measures for all embassies," the statement warned. It said al Qaeda's enemies appear as though they "will not leave the Arabian Peninsula, but they will be killed in it."
A US counterterrorism official said the claim reinforces an earlier assessment that the attack bore "all the hallmarks" of al Qaeda. Yemeni authorities arrested at least 30 people in the strike, and a group called Islamic Jihad in Yemen claimed responsibility and an affiliation with al Qaeda.
The attack was the biggest against a US target in Yemen since the 2000 bombing of the Navy destroyer Cole. It was seen by analysts as demonstrating al Qaeda's ability to regroup in a strategically important country and a shift in focus from Iraq.
CIA Director Michael Hayden on Thursday called Yemen, bin Laden's ancestral home, an attractive location for al Qaeda recruitment and training and a source of worrisome threats to neighboring Saudi Arabia.
"Yemen is another country of concern, a place where Al Qaeda is strengthening. We've seen an unprecedented number of attacks this year," Hayden said in a Washington speech to the Atlantic Council of the United States.
"Plots are increasing not only in number, but in sophistication, and the range of targets is broadening," he said.
The al Qaeda statement in Yemen emphasized that the attack did not take place in Muslim markets or other gathering places, but rather "in the den of cunning and deception, the security quarters of the global Crusade."
The deaths of Muslims in attacks on marketplaces and other gathering spots have cost al Qaeda Muslim support, Western analysts have said. Zawahri earlier this year denied that the group targeted "innocents," and said any Muslim deaths were unintentional.