NICE, France -- France's US-friendly president sent a clear message Friday to the next American administration: Plans for a US missile shield in Eastern Europe are misguided, and won't make the continent a safer place.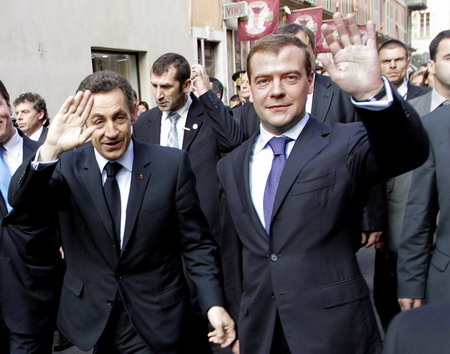 France's President Nicolas Sarkozy (L) and his Russian counterpart Dmitry Medvedev (R) walk through old Nice during a break in the EU-Russia summit, November 14, 2008. [Agencies]
Nicolas Sarkozy also warned Russian President Dmitry Medvedev against upping tensions by deploying missiles on the borders of the European Union in response to the US planned missile defense system. Medvedev urged all sides to refrain from "unilateral" moves.
Sarkozy's comments, at a summit with Medvedev, were the strongest to date by an American ally against the missile-defense plans, and undercut the rationale behind US President George W. Bush's European security strategy.
The plans for using sites in Poland and the Czech Republic have infuriated Russia despite the Bush administration's insistence that they are aimed at protecting Europe from Iran.
"Deployment of a missile defense system would bring nothing to security ... it would complicate things, and would make them move backward," Sarkozy said at a news conference with Medvedev. Medvedev smiled and pointed his finger at Sarkozy in approval.
The remarks came at the end of a week in which the United States and Russia rejected each other's proposed solutions to the standoff over the missile plans, making it increasingly likely that it will not be resolved before US President-elect Barack Obama takes office.
Obama has not been explicit about his intentions on European missile defense, saying it would be prudent to "explore the possibility" but expressing some skepticism about the technical capability of US missile defenses.
Moscow sees the defense plans as a Cold War-style project that could eliminate Russia's nuclear deterrent or spy on its military installations. Much of Western Europe is nervous about the idea of such major defensive weaponry stationed around the continent.
But Poland and the Czech Republic hope Obama follows through on the plans.
Czech Deputy Prime Minister and Minister for European Affairs Alexandr Vondra said in a statement he "was surprised" about Sarkozy's remarks, made at an EU-Russia summit.
"France never consulted with us such a standpoint," he said. "As far as I know a stance on the missile defense was not part of the French presidency mandate for the EU-Russia summit." France currently holds the rotating EU presidency.
Sarkozy said he was worried about Russia's threat to deploy short-range Iskander missiles near Poland in response to the US move.
"We could continue between Europe and Russia to threaten each other with shields, with missiles, with navies," he said. "It would do Russia no good, Georgia no good and Europe no good."
Medvedev suggested deploying missiles in the Baltic Sea enclave of Kaliningrad in a speech hours after Obama's election. Medvedev and other Kremlin officials later backed off slightly, and earlier this week Medvedev suggested that if Washington halts its plans, Moscow would do the same.