WASHINGTON -- The US government and the mortgage industry are launching the most sweeping effort yet to help troubled homeowners by speeding up the process for renegotiating hundreds of thousands of delinquent loans held by Fannie Mae and Freddie Mac.
The Federal Housing Finance Agency, which seized control of the two mortgage finance companies in September, announced the plan Tuesday along with other government and industry officials, including Hope Now, an alliance of mortgage companies organized by the Bush administration last year.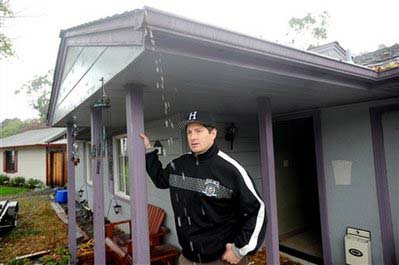 Troy Courtney stands on the porch of his Mill Valley, Calif., home on Saturday, November 1, 2008. His family is about to move out of the house following a foreclosure. [Agencies] 
"Foreclosures hurt families, their neighbors, whole communities and the overall housing market," said James Lockhart, the US housing finance agency's director. "We need to stop this downward spiral."
The plan could have tremendous importance because Fannie Mae and Freddie Mac own or guarantee nearly 31 million US mortgages, or nearly six of every 10 outstanding. Still, government officials did not have an estimate of how many people would qualify for the new program.
Officials hope the new approach, which goes into effect Dec. 15., will become a model for loan servicing companies, which collect mortgage companies and distribute them to investors. These companies have been roundly criticized for being slow to respond to a surge in defaults.
To qualify, borrowers would have to be at least three months behind on their home loans, and would need to owe 90 percent or more than the home is currently worth. Investors who do not occupy their homes would be excluded, as would borrowers who have filed for bankruptcy.
Borrowers would get help in several ways: The interest rate would be reduced so that borrowers would not pay more than 38 percent of their income on housing expenses. Another option is for loans to be extended from 30 years to 40 years, and for some of the principal amount to be deferred interest-free.
While lenders have beefed up their efforts to aid borrowers over the past year, their earlier efforts have not kept up with the country's worst housing recession in decades.
And critics were quick to pour water on the latest plan.
"Instead of a massive foreclosure prevention program, we wait for a homeowner to be in a failing position before doing anything, which often is too late," said John Taylor, president and CEO of the National Community Reinvestment Coalition.
"It's been the foreclosures that have been driving the economic downturn and we've been saying that for 13 months now. To stop the bleeding is to end foreclosures," he continued. "But now that so many other sectors in the economy have fallen, I'm not sure if we're past the point of no return. It's appalling that they don't get."
More than 4 million American homeowners, or 9 percent of borrowers with a mortgage were either behind on their payments or in foreclosure at the end of June, according to the most recent data from the Mortgage Bankers Association.
Indeed, Tuesday's announcement comes too late for Troy Courtney, a 44-year-old San Francisco police officer.
He moved out of his home in Mill Valley, Calif., at the start of this month -- taking his children, three dogs and one cat with him -- after failing at several to attempts to get a loan modification or a short sale, where the lender agrees to receive less than the loan is worth.
Courtney worked overtime and tapped into his retirement account to try to catch up with two loans on his home. But in the end he couldn't convince Countrywide Financial, which managed the loan for Wells Fargo, to modify the loan.
"I feel like I missed the boat," he said of the new efforts to help more homeowners. "I'm just mad at the whole system."