TOKYO -- Japanese Prime Minister Taro Aso announced a 27 trillion yen ($275 billion) stimulus package to shore up the world's No. 2 economy Thursday, vowing to dispel fears over the global financial crisis with expanded credits for small businesses and a cash payback to every household.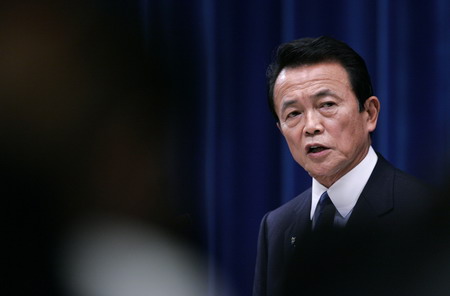 Japanese Prime Minister Taro Aso speaks during a news conference at his official residence in Tokyo October 30, 2008. Aso on Thusday unveiled Japan's second economic package in about two months that includes spending worth 5 trillion yen ($50.8 billion) as the global credit crisis pushes the world's No. 2 economy into a recession. [Agencies]
Aso said Japan's economy is hit by "a tempest that comes once in 100 years" and his government would muster all its efforts to help the country weather "a financial disaster."
"We understand that the most important thing is to assure the security of average households," the prime minister told a news conference as he unveiled the economic package.
"The purpose of the package is not to merely spur one-off demand. It is to generate solid economic growth by steady domestic demand," he said.
The package, which will total 26.9 trillion yen ($273 billion), will include 2 trillion yen ($20 billion) in fixed-sum benefits to every household, meaning a 60,000 yen ($600) payment for a family of four.
It also guarantees expanded loans and credits to struggling small- and mid-sized firms and includes a cut in payroll deductions for employment insurance and reduced fees for highways.
Aso said Japan's financial system was stable compared with those in the United States and Europe, but warned that the spiraling global financial crisis "is almost certain to affect Japan's real economy."
He also added once Japan's economy picks up, the government will consider raising consumption tax from the current 5 percent.
The opposition camp was quick to slam the package.
"I don't approve. Before raising taxes, he will just scatter money. It is questionable whether this package will help boost domestic demand," said Yukio Hatoyama, a leader of the Democratic Party of Japan, the largest opposition bloc against Aso's ruling Liberal Democratic Party.
Japan's Communist Party chief, Kazuo Shii, accused Aso of using public money "to win votes" as Japan is slated to hold lower house elections by September next year.
The economic package comes on the heels of an 11.7 trillion yen supplementary budget approved by parliament. That plan included help for fishermen and farmers to deal with high fuel prices, and assistance for part-time workers to find better jobs.
As the global financial crisis began to unfold earlier this year, Japan's economy looked to be in good shape compared to other advanced nations, avoiding major bank failures and bailouts.
But Japan's economy, which is largely driven by exports, is sputtering. On Wednesday, the government said industrial output fell for the third straight quarter, with further declines expected in the months ahead.
Amid deepening worries over a global downturn, Tokyo stocks hit 26-year lows earlier this week and the surging Japanese yen is punishing the country's exporters by making their products more expensive in the United States and other markets at a time when the crisis is slashing sales.