Turmoil in the world's financial markets has worsened, as stocks in Hong Kong, South Korea, Britain, Germany, Russia, Braziland elsewhere plunged on Friday, and, the US dollar and Japanese yen soared in value against other currencies.
Loss of confidence, coupled with wild speculation triggered by fear, also roiled currency markets, as investors continued to turn to the American greenback and the Japanese yen, and drove down currency values of many developing countries, including Brazil, Ukraine, South Korea, and even of developed countries like Great Britain, the New York Times reported on Friday.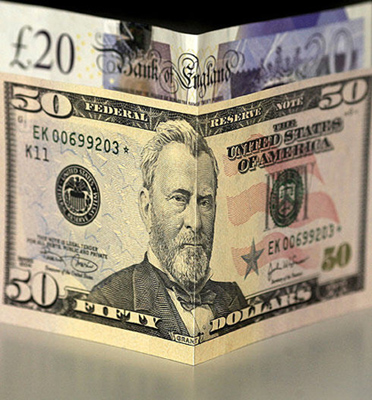 File photo shows banknotes of the US dollar (front) and Britain's pound. [Agencies]
There were chilling new developments that attested to the wide scope of the world financial crisis, despite efforts by heads of state, central bankers and corporate leaders to stop the market from hemorrhaging. Cash flowed to the dollar and the yen, the two most sought-after "safe havens" in a hurricane ravaged world.
As a result, the currency values of the emerging economies have tumbled. Even the British pound and European euro lost ground in the swirl of storm.
Profit-seeking hedge funds and other investors are pulling money out of the above countries on an immense scale and putting it into dollars and yen. Analysts said that, currently, there existed few safe harbors, as commodities also tumbled.
Fears of a spreading global recession caused oil prices to fall more than 5 percent, to US$64, even after OPEC, the oil cartel, announced it was cutting output.
Economists believe that, when a developing country's currency loses value rapidly, it impedes its ability to pay back loans and debts, which could cause a rash of corporate or government defaults -- a feature of previous financial crises in Asia in 1997-98 and Latin America, the New York Times report pointed out.
The cash flight to safety is hurting once-mighty currencies like Britain's pound. On Friday, worries about how the financial crisis would affect Britain's economy caused the pound to lose 8 cents against the dollar, falling to $1.53.
And the downdraft of the pound and the euro -- which fell to $1.26 against the dollar on Friday, its lowest level in two years -- is less serious for the economic well-being of Britain and Europe, than the deterioration of currencies like the Mexican peso or the Russian ruble.