PITTSBURGH -- A John McCain campaign volunteer admitted Friday she made up a story of being robbed, pinned to the ground and having the letter "B" scratched on her face by a black man in a politically inspired attack, police said.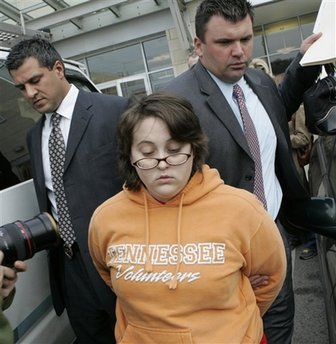 Ashley Todd, a 20-year-old college student from College Station, Texas, center, is led from Pittsburgh Police Headquarters by detectives in Pittsburgh, Friday, Oct. 24, 2008. [Agencies]
On her third day of questioning, Ashley Todd, a 20-year-old college student from College Station, Texas, "just opened up and said she wanted to tell the truth," said Maurita Bryant, assistant chief of the police investigations division.
Todd could provide no explanation for why she invented the story, police said. The woman told investigators she believes she cut the "B" onto her own cheek, but did not provide an explanation of how or why.
Police said the woman reported suffering from "mental problems" in the past, and that they do not believe anyone put her up to the act.
Dressed in an orange hooded sweatshirt, Todd left police headquarters in handcuffs late Friday on her way to court, where police said she was to be charged with making a false report to police.
She did not respond to questions shouted to her by reporters.
Authorities hoped to have her jailed and undergo psychiatric evaluation, said police Lt. Kevin Kraus. If she is not ordered held, he said authorities would seek to have her involuntarily committed to a psychiatric institution.
Todd, who is white, told police she was attacked Wednesday night by a tall dark-skinned black man wearing patent leather shoes.
Race has been a sensitive issue in the campaign, as Democrat Barack Obama would be the first black US president if he wins the November 4 election.
Police said they doubted her story from the start, in part because the "B" on her face was backward.
"We have robbers here in Pittsburgh, but they don't generally mutilate someone's face like that," Bryant said. "They just take the money and run."
Todd initially told investigators she was attempting to use a bank branch ATM when the man approached her from behind, put a knife to her throat and demanded money. She told police she handed the assailant $60 and walked away.