Barack Obama may be leading the US presidential race against John McCain by only about 10 percent in his country, but he enjoys a much higher rating in China.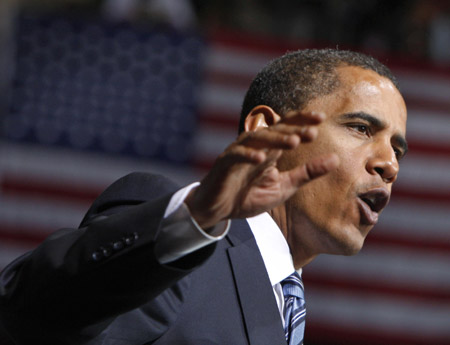 US Democratic presidential nominee Senator Barack Obama (D-IL) speaks at a campaign rally in Richmond, Virginia, October 22, 2008. [Agencies]
A Reuters/C-SPAN/Zogby poll released Wednesday gave the Democratic presidential nominee a 10 percent lead over his Republican rival.
But an online poll conducted on China Daily's website by the US embassy, shows Obama enjoys the support of 75 percent among the Chinese.
A Horizon Research survey released Wednesday showed about 35.5 percent Chinese "pay close attention" to the US presidential race. Even among these people, Obama's supporters exceed McCain's by 17.8 percent,
"The most impressive thing is the Chinese people's strong backing for Obama," Song Zhiyuan, who analyzed the survey results, said.
"Perhaps his age, energy, and even complexion, which signify the US dream, are more appealing to the Chinese," Song said.
Statistics show Obama was favored more than McCain by each of the target groups, which were divided according to gender, age, income and educational qualification.
Horizon Research received 2,791 effective answers to its questionnaire from people aged between 18 and 60 in seven big cities and seven towns.
"Actually, I didn't care much about the US election before. But this year, I have been following the campaign closely because Obama, an African American, is leading the race," said Xu Kai, 23, who works for a real estate company in Wuxi, Jiangsu province.
"I want to see if a black American could become the president." Xu said that by electing Obama the Americans could prove the US is not only a white people's country.
Chen Shu, 25, who works for a publisher in Shanghai, said she "prefers" Obama because she knows him better. Obama became better known in China before McCain.
The Chinese media have focused on Obama ever since he took on Hillary Clinton in the Democratic presidential nomination. The latter, being the wife of former president Bill Clinton, is a household name in China.
Chen, originally a Hillary fan, had hoped she would become the first woman president of the US. "It's a pity she lost the nomination to Obama. But the election is still interesting, and I like the sharp debates."
Though McCain is trailing Obama in US public polls, he still has his supporters in China.
Sun Peng, 32, a Beijing-based travel agent, supports the Republican candidate. "He is more mature and more likely to have a better US-China economy policy."
Neither of the candidates has spoken about their policies toward China.
But the Chinese media have reported that Obama's references to China have been more, and his attitude tougher.
The US embassy survey shows men with good educational qualifications and high salaries are more interested in the campaign, and less educated women and the elderly are less interested.
Yu Honglan, 47, a woman office cleaner in Beijing, said she had heard about the election but knew nothing about it. "No matter who becomes the US president, he will not have much to do with my life. I'm concerned about something else that their falling economy may affect us."