TEHRAN -- Iranian Oil Minister Gholamhossein Nozari said Tuesday that Iran, Russia and Qatar would cooperate on gas market, the official IRNA news agency reported.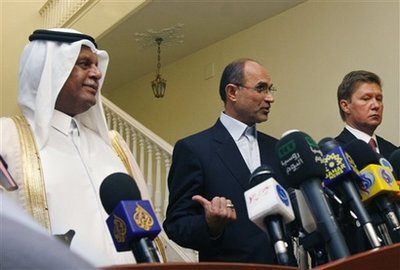 Iranian Oil Minister, Gholam Hossein Nozari, center, speaks with media during a joint press conference with chief of Russia's state gas monopoly OAO Gazprom, Alexei Miller, right, and Qatar's Deputy Premier and Minister of Energy and Industry, Abdullah bin Hamad Al-Attiya, at the conclusion of their meeting in Tehran, Iran, Tuesday, Oct. 21, 2008. [Agenceis]
Nozari, together with his Qatari counterpart Abdullah bin Hamad al-Attiyah and senior executive director of Russia's Gazprom company, Alexei Miller, began their first trilateral meeting for gas cooperation on Tuesday, the report said.    
The three parties discussed ways to expand the gas fields, to carry out strategic cooperation among the three countries in regional and international gas markets and "assist each other in the target markets in light of geopolitical and geographical considerations," IRNA reported.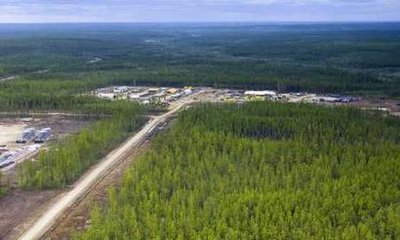 A general view shows the 1-billion-barrel Verkhnechonskoye field located more than 4,000 km (2,500 miles) and six time zones east of Moscow in this undated handout file photo. [Agencies]
Nozari said the three countries with natural gas reserves "will earnestly pursue the formation of an organization of gas exporting countries."
According to IRNA's report, the officials discussed means to set up a center for financial affairs of the three-nation cooperation in Doha, Qatar, a technical center in Tehran and a market survey center in Moscow, Russia.
Both Russia and Qatar are major gas exporters but, despite its huge reserves, Iran is a net importer.
However, Iran wants to turn into a major player in the gas market and proposes to develop a formal organization akin to the Organization of the Petroleum Exporting Countries (OPEC).
Europe and the United States have warned against such a gas export body, saying it could pose a danger to global energy security and create room for price manipulation.