WASHINGTON -- Washington does not want to alter a draft security pact with Iraq, despite demands for change from Baghdad where the document failed to win support from Iraqi political leaders, US Defense Secretary Robert Gates said on Tuesday.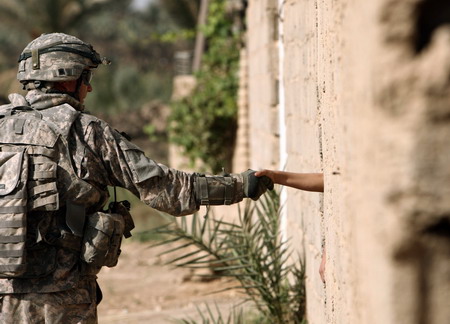 A US soldier shakes the hand of an Iraqi boy during a patrol in Baquba, in Diyala province some 65 km (40 miles) northeast of Baghdad, October 21, 2008. [Agencies]
After months of painstaking talks that ended last week, Iraq effectively called for reopening negotiations to address objections to the status of forces agreement (SOFA) draft that would require US forces to leave Iraq by the end of 2011.
But Gates told reporters at the Pentagon that the door to change was "pretty far closed" and warned that failure to reach a SOFA deal or renew the U.N. mandate for US troops to remain in the country would mean suspension of US operations.
"There is great reluctance to engage further in the drafting process," the US defense chief said.
"This is not just kind of a paper exercise. The consequences of not getting an agreement are very real," he added. "We basically (would) stop doing anything."
Objections by Iraqi political leaders appeared to be about details rather than the broad thrust of the pact, which is intended to replace the U.N. mandate that expires December 31.
"The cabinet has agreed that necessary amendments to the pact could make it nationally accepted," government spokesman Ali al-Dabbagh told Reuters after a cabinet meeting.
"The cabinet will continue its meetings (in coming days), in which ministers will give their opinions and consult and provide the amendments suggested. Then this will be given to the American negotiating team."
Let Iraqi Politics Play Out
Gates dismissed objections from Iraqi politicians, saying differing political opinions in Iraq would likely balance each other out and could lead to progress in the end.
"We just have to let the Iraqi political process play out," Gates said.
The Iraqi announcement on Tuesday was an apparent reversal for Baghdad, which had previously described last week's draft as a final text and said as recently as Saturday that it was unlikely to be renegotiated.