A private zoo complete with lions, tigers and panthers has been found in the garden of a Mexican mansion where a Colombian-led gang was arrested on drugs charges, police have said.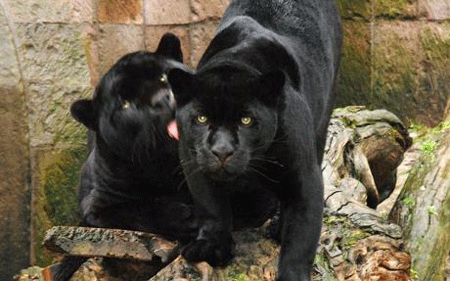 Two panthers which were found at a house in Mexico City where people suspected of working for a drug trafficking gang were arrested. [Agencies] 
Officers found two adult African lions, two white tigers and two black panthers in cages in the grounds of the plush, wood-paneled house where the drug suspects were holding a party.
The house also boasted a suit of armor and a pond with what appeared to be a live hippopotamus, according to a video shot by Reforma newspaper.
"The animals are endangered species," said a spokesman for Mexico's federal police. Police raided the house in misty hills on the edge of Mexico City on Saturday.
The big cats appeared to be in good physical condition.
The 11 Colombians, lead by kingpin Teodoro Mauricio "The Dove" Fino, are accused of shipping cocaine to Mexico for powerful drug lords the Beltran Leyva brothers to sell in the United States. Two Mexicans, an American, and a Uruguayan were also arrested.
Drug violence over smuggling routes is spiralling in Mexico, with some 3,700 people killed this year.
Six soldiers were killed in the northern city of Monterrey over the weekend, Mexican media said on Monday, in a spurt in violence following police raids in the city last week.
Text Size Email this article Print this article Share this article delicious Digg Facebook Fark Google Newsvine NowPublic Reddit StumbleUpon Related Content Drug cartel's party house.