The US has apprently agreed to remove all of its combat troops from Iraq by 2011.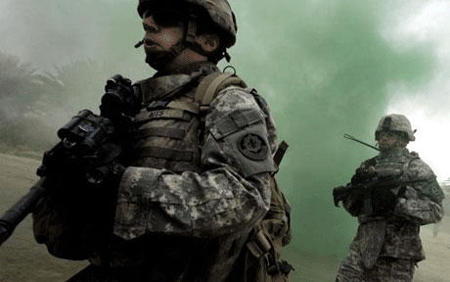 US soliders on patrol in Baqouba, Iraq. [Agencies] 
According to US and Iraqi officials, negotiators from the two sides have agreed the wording of a draft document for the withdrawal.
There are currently 150,000 US troops stationed in Iraq.
The deal, yet to be approved by Iraqi leaders, the Cabinet and parliament, must be in place by December 31, when the existing UN Security Council mandate expires.
A spokesman for the US State Department said a "text" was being considered but that it was not finalised.
"Nothing is done until everything is done. Everything isn't done," he said. "The Iraqis are still talking among themselves. We are still talking to the Iraqis. The process is not complete."
The document stipulates that US forces must be out of Iraqi cities by mid-2009 and leave the country altogether by the end of 2011, unless the Iraqis ask them to stay.
"The withdrawal will be achieved in three years," Ali al-Dabbagh, the Iraqi government spokesman, said.
"In 2011 the government at that time will determine whether it needs a new pact or not, and what type of pact will depend on the challenges it faces."
The most contentious issue under debate is the question of continued immunity from prosecution for American forces and Pentagon contractors.
Mr al-Dabbagh said that from January 1 Iraq would be able to prosecute US troops if they committed crimes outside their bases while off duty or on unauthorised missions.
US soldiers have been accused of several atrocities while stationed in Iraq, including the alleged rape and murder of a 14-year-old girl and her family, south of Baghdad.
Four soldiers have pleaded guilty in a US court and a fifth, Steven Dale Green, is due to stand trial next year.
The draft agreement wouldalso prevent the US military from continuing to hold Iraqi suspects without charge. At present, most of the 18,000 people held by coalition forces have not been charged with any offence.