NAIROBI -- Somali pirates have seized a Ukrainian ship carrying more than 30 tanks to Kenya while Russia said on Friday it was sending a warship to the region to combat piracy.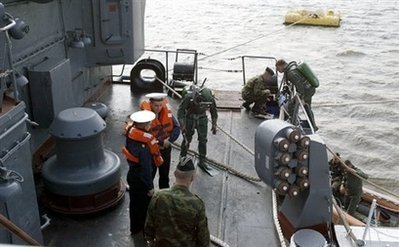 Russian sailors on board the Neustrashimy in 2003. A Russian warship headed for the seas off Somalia Friday after pirates seized a Ukrainian freighter carrying 33 tanks, munitions and other weaponry, officials said. [Agencies] 
The UN World Food Program said Canada had extended its vital naval escorts of food aid shipments for another month.
Pirates have captured more than 30 vessels off Somalia this year, making its waters the most dangerous in the world and threatening a globally important shipping lane between Europe and Asia. The gangs seek, and often receive, large ransoms.
The Mombasa-based East African Seafarers' Assistance Program said the Ukrainian ship, sailing under a Belize flag, was seized on Thursday.
Ukrainian Defense Minister Yuri Yekhanurov, quoted by the news agency Interfax Ukraine, said its cargo included 33 T-72 tanks being sold to Kenya under a legal contract.
He told reporters in Kiev that the cargo included grenade launchers and ammunition.
"All this is being sold in full accordance with Ukrainian legislation," Yekhanurov was quoted as saying.
Kenyan government spokesman Alfred Mutua confirmed that the military equipment was destined for Kenya.
"The cargo in the ship includes military hardware such as tanks and an assortment of spare parts for use by different branches of the Kenyan military," he said in a statement.
The cargo was a significant seizure in Somalia, where Islamist insurgents have been fighting the government and its Ethiopian military ally for nearly two years.
Although under a UN arms embargo, the Horn of Africa country is awash with arms.