HAVANA - Hurricane Ike weakened into a Category 2 storm on Monday after roaring ashore in northeastern Cuba, but forecasters say it could regain intensity as it spins toward the US oil hub in the Gulf of Mexico and possibly New Orleans.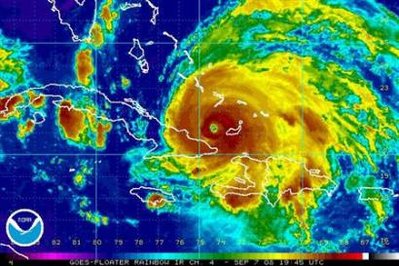 Hurricane Ike is seen in a satellite image taken September 7, 2008. [Agencies] 
Ike pounded northeastern Cuba with 105 mile per hour (165 kph) winds, torrential rains and massive waves, and it could slow further to a Category 1 storm on the five-step Saffir-Simpson intensity scale as it runs the 700-mile (1,125 km) island, the US National Hurricane Center said.
Related readings:


 Evacuation starts in Florida as Hurricane Ike looms


 Hurricane Ike powers toward Cuba, Gulf


 Ferocious hurricane raises fears from Caribbean to Gulf


 Powerful Hurricane Ike looms as trouble for Gulf
While a dangerous Category 3 storm, Ike had ripped through the southern Bahamas and added to the misery and death toll in storm-battered Haiti. Officials said at least 61 people had died in floods in impoverished Haiti on top of 500 killed last week by Tropical Storm Hanna.
The Cuban Meteorology Institute said the storm crashed into the coast near Punta Lucrecia in the state of Holguin, about 510 miles southeast of Havana.
"There is lot of worry, windows are beginning to break," a woman named Carmela said by telephone from the hotel where she works in the city of Holguin, 30 miles from Punta Lucrecia. "There's a lot of water, it's raining very heavily."
Officials said at least 1.1 million people were evacuated ahead of a storm expected to slash through the heart of Cuba, which is still reeling from Hurricane Gustav's hard hit on the west side of the long, narrow island last week.