ISLAMABAD - Pakistan People's Party (PPP) Co- chairman Asif Ali Zardari on Saturday won a clear majority in the presidential election, according to an unofficial result.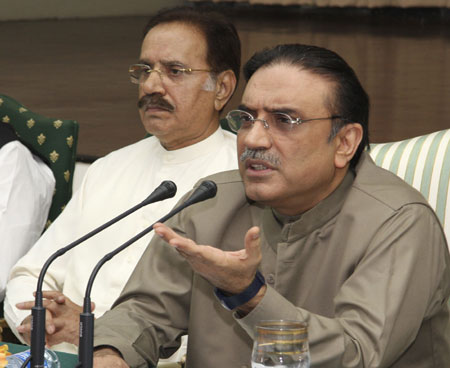 Asif Ali Zardari (R), co-chairman of the ruling Pakistan People's Party, speaks during the party's central executive meeting in Islamabad August 22, 2008. [Agencies]
According to Pakistan's constitution, the candidate who has simple majority of the 702 votes will be the next president of the country.
Zardari, widower of slain former Prime Minister Benazir Bhutto, secured 479 votes from the total number of 702 votes of the electoral college consisting of two houses of the parliament and four provincial assemblies.
Saeed-uz-Zaman Siddiqui, who was fielded by Pakistan Muslim League-Nawaz (PML-N), bagged 153 votes while Senator Mushahid Hussain, a candidate from the Pakistan Muslim League-Quaid (PML-Q), got 43 votes.  
The PPP members and Zardari's two daughters, holding a photo of Benazir Bhutto, chanted slogans of "Long live Bhutto" to celebrate Zardari's victory in the parliament house.
"The PPP got this presidency not by force," said Information Minister Sherry Rehman told media after the election.
"The people gave their vote constitutionally," said Rehman, who is also a PPP member.
The other two candidates Siddiqui and Mushahid Hussain said they accepted the results and congratulated Zardari for his victory.
"We hope Zardari can bring good things and showcase a sign of unity," Mushahid said.
The presidential election was held after former president Pervez Musharraf announced his resignation on August 18 under impeachment pressure.