BAGHDAD -- Prime Minister Nouri al-Maliki dug in his heels Monday on the future of the US military in Iraq, insisting that all foreign soldiers leave the country by a specific date in 2011 and rejecting legal immunity for American troops.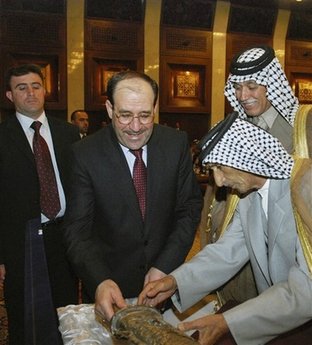 In this photo released by the Iraq Prime Minister's Office, Iraq Prime Minister Nouri al-Maliki, center, attends a tribal conference in the heavily fortified Green Zone in Baghdad, Iraq, Monday, Aug. 25, 2008. Prime Minister Nouri al-Maliki said Monday no security agreement with the United States could be reached unless it included a 'specific deadline' for the withdrawal of American troops from Iraq. [Agencies]
Related readings:


 Iraq, US eye troops withdrawal by end of 2011


 US, Iraq close in on deal for pullout of US troops


 US, Iraq reach deal to pull US troops out by June


 US military deaths in Iraq war at 4,145
Despite the tough words, al-Maliki's aides insisted a compromise could be found on the two main stumbling blocks to an accord governing the US military presence in Iraq after a United Nations mandate expires at the end of the year.
Last week, US and Iraqi officials said the two sides agreed tentatively to a schedule that includes a broad pullout of combat troops by the end of 2011 with the possibility that a residual US force might stay behind to continue training and advising Iraqi security services.
But al-Maliki's remarks indicated his government was not satisfied with that arrangement and wants all foreign troops gone by the end of 2011.
That cast doubt on whether an agreement is near and suggested al-Maliki is playing to a domestic audience frustrated by the war and eager for an end to the foreign military presence.
"There can be no treaty or agreement except on the basis of Iraq's full sovereignty," al-Maliki told a gathering of Shiite tribal sheiks. He said an accord must be based on the principle that "no foreign soldier remains in Iraq after a specific deadline, not an open time frame."
Al-Maliki said the US and Iraq had already agreed on a full withdrawal of all foreign troops by the end of 2011, an interpretation that the White House challenged. Until then, the US would not conduct military operations "without the approval" of the Iraqi government, al-Maliki said.
White House spokesman Tony Fratto said negotiations with the Iraqis were continuing and repeated the US position that the withdrawal must be linked to conditions in Iraq, a clear difference with al-Maliki's interpretation of what had been agreed.
"Any decisions on troops will be based on the conditions on the ground in Iraq. That has always been our position and continues to be our position," Fratto said Monday in Crawford, Texas. "There is no agreement until there is an agreement signed."
Fratto said the US was "optimistic that Iraq and the US can reach a mutual agreement on flexible goals" and allow "Iraqi forces to provide security for a sovereign Iraq."