DENVER, United States -- Barack Obama has no intention to transform and challenge the one-China policy should he be elected as the US president, his senior foreign policy advisors said Monday.
Gregory B. Craig, a long-term advisor of Obama on foreign affairs, told a press conference that the Democratic presidential nominee to be would observe the one-China policy stipulated in a set of institution of understanding between China and the US.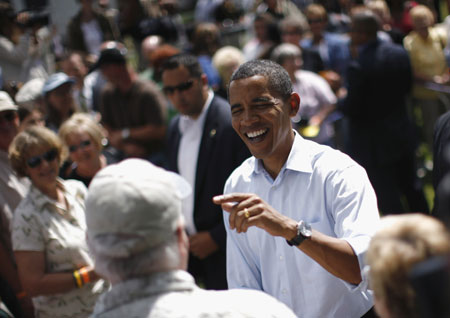 US Democratic presidential candidate Senator Barack Obama (D-IL) speaks to supporters at a campaign event at the Mississippi Valley Fairgrounds in Davenport, Iowa, August 25, 2008. [Agencies] 
The Illinois senator has made it clear that the relations with China is a very important and key one for the US, said Ambassador Wendy R. Sherman, a former aide for former US State Secretary Madeleine Albright, at a press conference during the Democratic National Convention here.
Obama will be officially nominated as the Democratic presidential candidate at the gathering.
"People said that the 20th century is American century, and the 21th is Asian century," she said.
She said that she has no doubt Obama would visit China in his early presidency if he is elected in November.
"We are economically interdependent on each other, and there are many places that we can work closely together as China becomes a more and more responsible stakeholder," she said, citing the six-party talks as an example.
On the Taiwan issue, she said Obama's policy will be the continuation of American presidents' one-China stance and that he hopes to see the constructive relations between two sides.