MOSCOW -- The State Duma, the lower house of Russia's parliament, on Monday approved an appeal to the Russian president on the recognition of the independence of Abkhazia and South Ossetia, two breakaway regions of Georgia.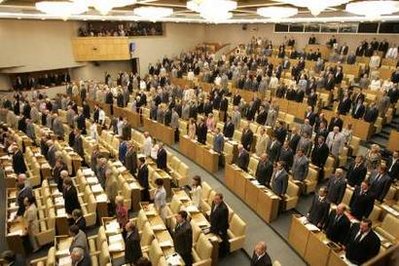 Deputies of Russia's Duma lower house of the parliament stand in a minute of silence to commemorate those who died in the conflict in Georgia's breakaway region of South Ossetia during a session in Moscow August 25, 2008. Russia's lower house of parliament on Monday called on President Dmitry Medvedev to recognise Georgia's breakaway regions of South Ossetia and Abkhazia as independent states. [Agencies] 
The repeated appeals for recognition made by the breakaway regions "have legal ground and are morally justifiable," lawmakers said, adding that the recognition would help ensure security and protect the peoples of Abkhazia and South Ossetia "from threats from third countries."
Earlier in the day, the Federation Council, or upper house of the parliament, voted unanimously in favor of a similar appeal.
South Ossetia's leader Eduard Kokoity flew to Moscow last Saturday to deliver his republic's appeal, approved by parliament last Friday.
Kokoity and his Abkhazian counterpart, Sergei Bagapsh, attended an extraordinary meeting of the Federation Council on Monday to call for the recognition of their regions' independence.