SUROBI, Afghanistan - Heavily armed insurgents mounted two of the biggest attacks in years on Western forces in Afghanistan, killing 10 French soldiers in a mountain ambush and then sending a squad of suicide bombers in a failed assault early Tuesday on a US base near the Pakistan border.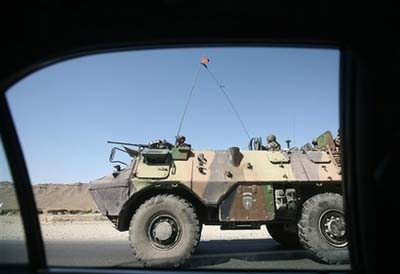 An armoured vehicle of French troops patrol in Surobi, Afghanistan, Tuesday, August 19, 2008.[Agencies] 
The audacious strikes suggested a more sophisticated insurgency now willing to launch frontal assaults on US and NATO troops.
Only months ago, militants shied away from large-scale attacks because of the heavy losses they could incur when jet fighters appeared overhead, NATO and US officials said.
But the Taliban and other militant groups appear increasingly willing to commit large numbers of foot soldiers to onslaughts that attempt to overwhelm small groups of US and NATO troops. Just last month, some 200 militants attacked a small US outpost in Afghanistan's eastern mountains, penetrating its perimeter and killing nine US troops.
The suicide attack Tuesday on Camp Salerno, the American base that serves as the logistics hub for the war's eastern front, began just after midnight when a team of attackers dressed in military fatigues were spotted on the horizon.
Afghan and US forces confronted the militants some 1,000 yards from the base entrance, while fighter aircraft attacked from the air. Once surrounded, three suicide bombers detonated themselves, and three more were shot to death, NATO said in a statement. It said a seventh militant was also killed and two NATO soldiers were wounded.
The French soldiers were on a reconnaissance mission when they were ambushed Monday afternoon by a force of about 100 militants in the mountains of Surobi, an insurgent redoubt 30 miles east of the Afghan capital of Kabul.
France's top military official, Gen. Jean-Louis Georgelin, said most of the French casualties came in the minutes after the soldiers ascended a mountain pass. Battles ensued and 21 French soldiers were wounded.
French Defense Minister Herve Morin said about 30 militants were killed and 30 wounded, while Afghan officials said at least 13 militants were killed. Taliban fighters and militants allied to renegade warlord Gulbuddin Hekmatyar operate in Surobi.
It was the deadliest attack against international troops in Afghanistan since June 2005, when 16 American troops were killed when their helicopter was shot down by a rocket-propelled grenade.
The high casualties prompted French President Nicolas Sarkozy to immediately board a plane for Afghanistan. France is sending 700 more troops to Afghanistan this month, and the deaths could heighten domestic opposition to the plan.
"In its fight against terrorism, France has just been struck severely," Sarkozy said in a statement, adding: "My determination remains intact."
The back-to-back attacks came only hours after the top US commander in Afghanistan, Maj. Gen. Jeffery J. Schloesser, warned in a rare public announcement that intelligence indicated militants planned to launch attacks Monday.