Michael Phelps, the restless boy in the pool, finally established himself as the greatest Olympian ever.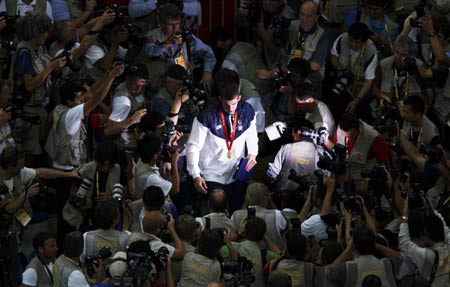 Photographers surround Michael Phelps of the US after he won his eighth gold medal of the games at the National Aquatics Center during the Beijing 2008 Olympic Games, August 17, 2008. [Agencies]
He wrapped up an amazing week at the Water Cube and became the first athlete to win eight gold medals in a single Olympics.
Phelps broke fellow-American Mark Spitz's record of seven, set in Munich in 1972, after leading the US 4x100 medley relay team to gold in world record time Sunday.
In the process, the 23-year-old also smashed seven world records, set an Olympic mark in the eighth, and took his career Olympic gold haul to an unparalleled 14.
Said Phelps: "Everything has been accomplished, I think doing all best times and winning everything. This is something I've been looking forward to for the last four years. It's been a fun last four years, and a fun last week for sure.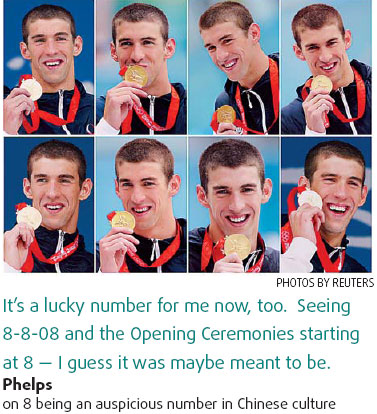 "The whole thing, every race, one after the other from winning by one-hundredth of a second to finishing if off with a world record. It's an amazing experience."
Sunday's win was hardly a breeze even though the Americans have never lost the medley relay at the Olympics.
When Phelps dived into the water for the butterfly - the third of four legs - the Americans were third behind Japan and Australia.
But Phelps, swimming the same distance and stroke that he used to win his seventh gold on Saturday, powered to the front on his return lap, passing off to freestyler Jason Lezak with the Americans in front.
Australia's Eamon Sullivan tried to chase Lezak down and appeared to be gaining as they came to the wall. But Lezak touched first.
Phelps patted breaststroker Brendan Hansen on the head and threw his arms in the air after Lezak finished, though the Americans still had to wait a couple of tantalizing minutes for the official results to be posted.
Finally, it flashed on the board. World record. Gold medal No 8.
On deck, a beaming Phelps slapped hands with his teammates and thrust his arms toward the Water Cube roof. The winning swimmers locked arms as if they were in a football huddle about to break for a play.
"Nothing is impossible," Phelps said later. "With so many people saying it couldn't be done, all it takes is an imagination, and that's something I learned and something that helped me.
"The reason why I was so emotional is that I have dreamed of a lot of things and written things down. This was the biggest thing I have ever written down. Thinking of all the things I have done to get here, everything I have gone through.
"I kind of just want to see my mom now."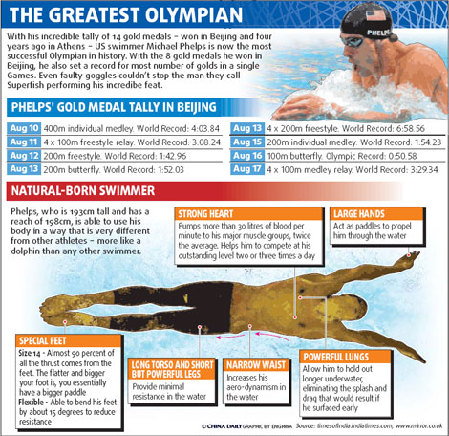 Asked about the future, Phelps said: "One of the things I really want to do is just lie in my own bed for five minutes and just relax. It's time to take a little vacation. I've been looking forward to it for years.
"Over the next four years I would like to try some new events, and then we'll see what happens. My coach Bob (Bowman) said he wants to start afresh, and try things we haven't done before. Try new training methods. It's going to be fun."
Phelps also said he had good memories living in the Olympic Village.
"I never had roommates before," he said. "Some of the greatest memories are the times spent with them. Playing games with them and getting to know everyone being part of Team USA and the Olympic Team is one of the greatest memories I will take from the Games."
He will also take back a $1 million bonus offered by sponsor Speedo for winning his eight golds.
Agencies, NBC.com contributed to the story