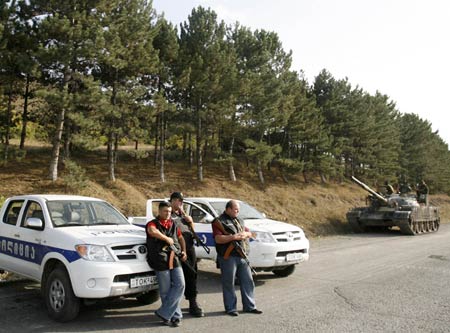 Russian troops (R) and Georgian police stand at a joint checkpoint on the main road to Tbilisi near the town of Gori, some 80 km (50 miles) from the capital, August 14, 2008. [Agencies]
TBILISI/SOCHI - Georgia on Friday signed a ceasefire agreement seeking to end its conflict with Russia, as US President George W. Bush said Moscow's actions in Georgia were unacceptable.
Georgian President Mikheil Saakashvili said he had signed a ceasefire agreement, negotiated by France on behalf of the European Union, and Russia said it would implement the peace deal.
Related readings:


 Russia expects Georgia to accept settlement principles


 Bush sends American troops, aid to Georgia


 Georgia alleges Russia has broken truce


 Russia halts operation in Georgia
Late on Friday US Secretary of State Condoleezza Rice spoke with Russian Foreign Minister Sergei Lavrov from her plane after leaving the Georgian capital Tbilisi.
A US official said Lavrov told Rice Russia would faithfully implement the ceasefire agreement. It wants to see Saakashvili's signature on the document first.
On Thursday about 17 armored personnel carriers and about 200 soldiers advanced to a village 45 km (30 miles) from Tbilisi, the deepest drive into Georgian territory since fighting began in South Ossetia on Thursday. The vehicles traveled unimpeded by Georgian police and army stationed along the road.
Saakashvili said tanks also advanced on another two towns -- Khashari and Borjomi -- in central Georgia, but that could not be independently verified.
A reason for the presence of Russian armor maneuvering inside Georgia in either case was not immediately clear.
Alarm
"This act is completely unacceptable to the free nations of the world," Bush said in his weekly Saturday radio address, which the White House released on Friday.
The United States earlier demanded Russian troops end their occupation of Georgia immediately after Georgia signed the ceasefire agreement.
Speaking alongside Saakashvili in Tbilisi, Rice evoked the Soviet-led invasion of Czechoslovakia 40 years ago: "Russian forces need to leave Georgia at once. This is no longer 1968."
Saakashvili met with Rice for five hours.
Saakashvili, in passionate remarks, denounced Russians as "21st century barbarians" and blamed the West for triggering the crisis by failing to react firmly to Moscow's previous military moves and not admitting Georgia to NATO fast enough.
"Who invited the trouble here?" he said, flanked by several large Georgian and US flags. "Not only those people who perpetrated this, but those who failed to stop it."
The simmering crisis over South Ossetia exploded when Georgia tried to retake the Russian-backed province, provoking a massive counter-attack by Moscow.
The Kremlin deployed warships, planes, tanks and troops against Georgia in its biggest military operation outside its borders since the 1991 fall of the Soviet Union.
'Fairy Tales'
Russian President Dmitry Medvedev showed defiance after meeting German Chancellor Angela Merkel in the Black Sea resort of Sochi, along the coast from the conflict zone.
He said Moscow would respond the same way if its peacekeepers were attacked again and questioned whether the regions at the centre of the conflict could ever live again under Georgian rule.
Medvedev also denounced the Polish-US deal as a threat to Russia. "The deployment of new anti-missile forces has as its aim the Russian Federation," he told a news conference alongside Merkel.
"Therefore any fairy tales about deterring other states, fairy tales that with the help of this system, we will deter some sort of rogue states, no longer work."
Russia's deputy chief of the general staff later told Interfax news agency that Poland was laying itself open to a possible military -- including nuclear -- strike
"Poland, in deploying (elements of the system) opens itself to a military strike. That is 100 percent." Col-General Anatoliy Nogovitsyn said.
The general said Russian military doctrine allows for a possible nuclear strike.
Merkel called on the Kremlin to pull its forces out of central Georgia and implement the French-led peace plan.
"We very much want the six-point plan to be implemented very promptly so that Russian troops are no longer in Georgia, outside Abkhazia and South Ossetia," she told the joint news conference with Medvedev.
Pressure from Berlin is significant because Moscow generally regards it as a more sympathetic partner than former Cold War foes London and Washington.
The conflict has rattled oil markets because a key pipeline runs through Georgia. It has also unnerved the West, which fears the conflict could easily escalate in the volatile region.
Russia says its actions are fully justified by Georgia's "aggression" and "genocide" in attacking South Ossetia last week, where many residents hold Russian passports.
It maintains its troops must stay in Georgia to secure the situation and prevent further conflict. Russian ground forces are mainly based around the central town of Gori, 70 km (40 miles) west of the Georgian capital.
In Moscow, the General Staff said at its daily news briefing that there had been no shooting in the past 24 hours.
Russia says 1,600 civilians died when Georgia attacked South Ossetia, though the figure has not been independently verified.
Moscow's General Staff has said it lost 74 soldiers in the fighting, with 171 wounded and 19 missing. At least four warplanes have been shot down.
Georgia puts deaths on its side at more than 175, with hundreds injured. That figure does not include South Ossetia.