TSKHINVALI - Georgia offered Russia a ceasefire and peace talks on Sunday after pulling troops back from South Ossetia's capital, and mediators began a mission to end the fighting.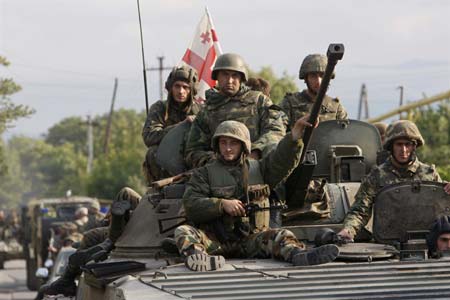 Georgian soldiers sit on a tank moving near the town of Tskhinvali, some 100km (62 miles) from Tbilisi, August 10, 2008. [Agencies] 
Some fighting still gripped parts of the Caucasus region, however, and Russia demanded an unconditional Georgian withdrawal.
French Foreign Minister Bernard Kouchner arrived in Tbilisi at the head of an international team of mediators, the first top level diplomatic mission to fly to the region in an attempt to stem the fighting. It was due to move on to Moscow on Monday.
Related readings:


 Russia expands bombing blitz


 US faults Russia for rising violence

 Georgia, Russia conflict escalates


 Georgia calls for ceasefire
After meeting Georgian President Mikheil Saakashvili, Kouchner said a "controlled withdrawal of the troops" was his main priority.
"Coming back to the table, negotiations, peace talks, a political solution. That's it. Easy to say, very difficult to do," Kouchner told journalists in Tbilisi.
The United States maintained its strong criticism of Russia, condemning its "disproportionate and dangerous" military action.
Russian troops and tanks took control of Tskhinvali, the region's capital, early on Sunday after a three-day battle. Moscow said 2,000 civilians were killed and thousands made homeless in a "humanitarian catastrophe."
The simmering conflict between Russia and Georgia erupted late on Thursday when Georgia sent forces into South Ossetia, a small province which threw off Georgian rule in the 1990s.
Russia, which had peacekeepers stationed in the province, responded by pouring troops and heavy amour south through the Caucasus mountains into South Ossetia to drive back the Georgians.