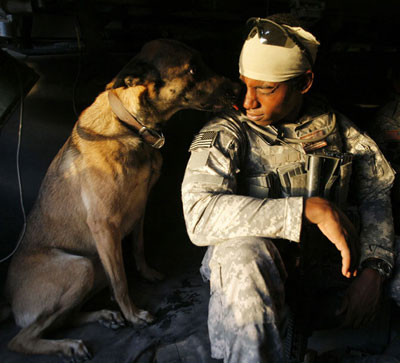 US Sergeant Marcus Mayward is licked by a dog trained to sniff for explosives inside a military vehicle during security operations in Diyala province August 7, 2008. [Agencies]
BAGHDAD - Two Iraqi officials say the US and Iraq are close to a deal under which all American combat troops would leave by October 2010 with remaining US forces gone about three years later.
 A US official in Washington acknowledges progress has been made on the timelines for a US departure but offered no firm date. Another US official strongly suggested the 2010 date may be too ambitious.
A timetable is part of a security agreement being negotiated by US and Iraqi officials. Both sides stress the deal is not final and could fall apart over the issue of legal immunity for American troops.
One of the US officials said Secretary of State Condoleezza Rice and Prime Minister Nouri al-Maliki had a long and "very difficult" telephone conversation Wednesday in which she pressed the Iraqi leader for more flexibility, particularly on immunity.