CAIRO, Egypt - Archaeologists and scholars will excavate hundreds of fragments of an ancient Egyptian wooden boat entombed in an underground chamber next to Giza's Great pyramid. They will then try to reassemble the craft.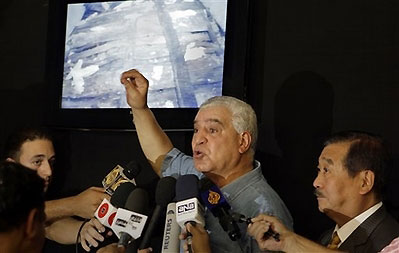 Zahi Hawas, head of the Supreme Council of Antiquities (SCA), left, and Japanese Egyptologist Sakuji Yoshimura, right, from Waseda Universty in Japan, display for the first time the Pharaoh Cheops' second solar boat through a camera put inside the boat pit at the Pyramids site in Giza, Egypt, Saturday, July 19, 2008. [Agencies]
The 4,500-year-old vessel is the sister ship of a similar boat removed in pieces in 1954 from another pit and painstakingly reconstructed. Experts believe the boats were meant to ferry the pharaoh who built the Great Pyramid in the afterlife.
Starting Saturday, tourists were allowed to view images from inside the second boat pit from a camera inserted through the a hole in the chamber's limestone ceiling.
Professor Sakuji Yoshimura of Japan's Waseda University says the excavation of around 600 pieces of timber will begin in November.