KATHMANDU -- Nepali Constituent Assembly (CA) has concluded the voting of re-polling for the post of the youngest republic's president at noon Monday at the CA venue, International Convention Center (ICC) in Nepali capital Kathmandu.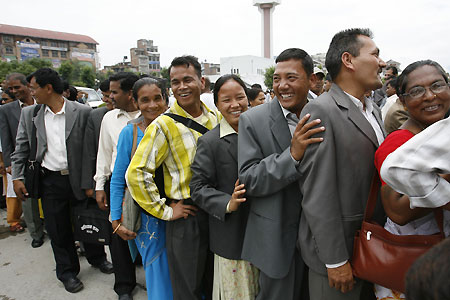 Members of Nepal's Constituent Assembly queue to vote at Parliament House in Kathmandu July 19, 2008. [Agencies] 
Dr. Ram Baran Yadav, general secretary of the second largest CA party Nepali Congress (NC), who has been also supported by the third and the fourth CA parties, the Communist Party of Nepal ( Unified Marxist-Leninist) (CPN-UML) and Madhesi People's Rights ( MPRF), appeared to be in a stronger position compared with his rival Ram Raja Prasad Singh nominated by the largest party the Communist Party of Nepal (Maoist) (CPN-M).
As per the latest alliance mark-sheet by local newspaper Kantipur daily, Dr. Yadav has been promised of support from around 308 CA members, which is more than half of the total 594 CA members.
Related readings:


 China respects Nepal's choice of social system


 Deposed king of Nepal moves out of royal palace


 Nepal set to become a republic


 People celebrate abolition of monarchy in Nepal
The re-election results will be formally declared by the CA, supposed to convene at 4 p.m. local time (1015 GMT). The repolling started at around 8:10 a.m. local time (0225 GMT) on Monday.
On Saturday evening, Madhesi People's Rights Forum (MPRF) candidate Paramananda Jha was declared the first vice president of republican Nepal by the CA.
However, none of the presidential candidates gathered simple majority support from the 578 voting CA members. Ram Baran Yadav bagged 283 votes and  Ram Raja Prasad Singh won 270 votes.
Since no single candidate won over half support (298 votes out of 594 CA member voters), two top candidates securing the largest number of votes, Ram Baran Yadav and Ram Raja Prasad Singh, came to contest again in the elections for the second round. The elections will be held in successive rounds until a single candidate for the two posts emerge with a simple majority.
Nepal was declared a federal democratic republic at the first CA meeting on May 28, ending the 240-year Shah dynasty.