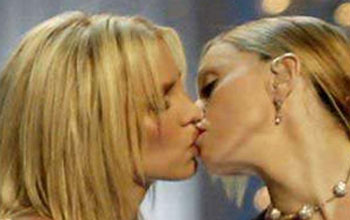 Britney Spears shares an open-mouthed kiss with Madonna at the MTV Music Video Awards. [File Photo]
BEIJING, July 12 -- Madonna and Britney Spears are set to perform a bondage routine together.
The pop superstars - who caused controversy when they shared a kiss at the MTV Music Awards in 2003 - will appear in bandages which they will remove to reveal tiny bondage pants and knee-high boots.
The footage, which will include the pair gyrating against each other, will be screened to fans on Madonna's Sticky and Sweet world tour via giant video screens.
A source said: "It is classic Madonna, probably the raunchiest stuff she has ever done. It leaves nothing to the imagination and it will be very controversial.
"Britney and Madonna are unwrapped like mummies to appear together almost naked apart from tiny leather bondage pants and knee-high boots. They then dance closely together, pressing their hands and bodies together.
"There will be big rows over whether it is sexy, shocking or both."
The pair will perform a mix of Madonna's track Beat Goes On and Britney's Piece of Me.
Britney will also dance to Madonna's 1995 hit Human Nature, which will include one scene where she loses her mind after getting stuck in a lift.
The source added to Britain's The Sun newspaper: "We'll see her going crazy in an enclosed space - screaming, pulling her hair and banging her fists against the lift's walls as it gets stuck between floors. She really loses it."