KABUL - Militants killed more US and NATO troops in Afghanistan in June than in Iraq for the second straight month, a grim milestone capping a run of headline-grabbing insurgent attacks that analysts say underscore the Taliban's growing strength.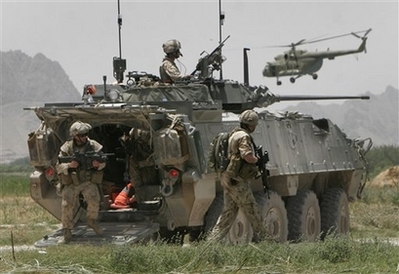 In a Wednesday, June 25, 2008 file photo, Canadian soldiers with the International Security Assistance Force (ISAF) leave an armored vehicle as an Afghan helicopter flies overhead in the Arghandab district after it was recaptured by NATO and Afghan troops from Taliban militants last week in Kandahar province, south of Kabul, Afghanistan. [Agencies]
The fundamentalist militia in June staged a sophisticated jailbreak that freed 886 prisoners, then briefly infiltrated a strategic valley outside Kandahar. Last week, a Pentagon report forecast the Taliban would maintain or increase its pace of attacks, which are already up 40 percent this year from 2007 where US troops operate along the Pakistan border.
Some observers say the insurgency has gained dangerous momentum. And while June also saw the international community meet in Paris to pledge $21 billion in aid, an Afghanistan expert at New York University warns that there is still no strategy to turn that commitment into success.
Defense Secretary Robert Gates has noted that more international troops died in Afghanistan than in Iraq in May, the first time that had happened. While that trend - now two months old - is in part due to falling violence in Iraq, it also reflects rising violence in Afghanistan.
At least 45 international troops - including at least 27 US forces and 13 British - died in Afghanistan in June, the deadliest month since the 2001 US-led invasion to oust the Taliban, according to an Associated Press count.
In Iraq, at least 31 international soldiers died in June: 29 US troops and one each from the former Soviet republics of Georgia and Azerbaijan. There are 144,000 US troops in Iraq and 4,000 British forces in additional to small contingents from several other nations.
The 40-nation international coalition is much broader in Afghanistan, where only about half of the 65,000 international troops are American.
Related readings:


 55 militants killed in battle in Afghanistan


 NATO, Afghan forces fight Taliban in south


 Afghanistan, Iraq drive up refugee toll
That record number of international troops means that more soldiers are exposed to danger than ever before. But Taliban attacks are becoming increasingly complex, and in June, increasingly deadly.
A gun and bomb attack last week in Ghazni province blasted a US Humvee into smoldering ruins, killing three US soldiers and an Afghan interpreter. It was the fourth attack of the month against troops that killed four people. No single attack had killed more than three international troops since August 2007.
"I think possibly we've reached a turning point," said Mustafa Alani, the director of security and terrorism studies at the Dubai-based Gulf Research Center. "Insurgents now are more active, more organized, and the political environment, whether in Pakistan or Afghanistan, favors insurgent activities."