LONDON - US President George W. Bush and British Prime Minister Gordon Brown will present a united front against Iran's nuclear ambitions Monday and seek to dispel media suggestions of a rift over troop levels in Iraq.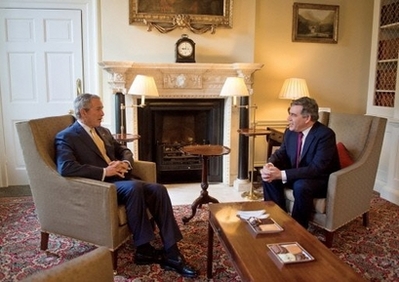 US President George W. Bush holds talks with British Prime Minister Gordon Brown at No. 10 Downing Street. Wrapping up a farewell Europe tour, Bush held talks with Brown and Mideast envoy Tony Blair. [Agencies]
On the last day of a farewell European tour, Bush will press on with efforts to build European support for new sanctions if Iran remains defiant despite a carrot-and-stick campaign to get the Islamic Republic to suspend uranium enrichment.
Bush and Brown began their meeting shortly after 4 a.m. EDT and are expected to tread a more cautious line over the Iraq war, unpopular in both their countries and a source of deep anti-Bush sentiment in Britain.
Both men have faced low approval ratings in the wake of the prolonged Iraq war and a sagging global economy.
Thousands of protesters demonstrated in central London on Sunday against Bush and the five-year-old war. Several demonstrators were injured in scuffles with police and authorities said they arrested 25 people.
Police in riot gear created a buffer to allow Bush's motorcade to reach Brown's Downing Street residence for dinner but his ride on Monday to the meeting was less eventful -- a few waves from onlookers along the heavily guarded route.
In a British newspaper interview published Sunday, Bush urged Britain -- Washington's main ally over Iraq -- not to withdraw troops unless conditions on the ground allowed.
"Our answer is: there should be no definitive timetable (for a pullout)," Bush told the Observer, adding he was "appreciative" that Brown was in frequent touch about "what he and his military are thinking."
The newspaper described Bush's comments as a warning to Brown, but the White House dismissed that tone, saying there was no disagreement between the United States and Britain on Iraq.
Only about 4,200 British troops remain in Iraq, most of them stationed at a base in the south. Britain has suggested it could pull them all out by the end of 2008, but with the situation still unstable in Iraq that appears difficult.
Al Qaeda
"We've routed (al Qaeda) in Iraq," Bush told Sky News television Sunday, presenting one of the cases why he sees the US-led military operation as vital. "That's not to say that they're not still dangerous or want to come back."
Bush has a more formal relationship with Brown than he had with the British leader's predecessor Tony Blair, Washington's staunchest supporter over the 2003 invasion of Iraq.