WASHINGTON - About 20 names have been listed as potential running mates of the Democratic presumptive presidential candidate, Barack Obama, a Senator said on Tuesday.
Kent Conrad, a Senator from North Dakota, told reporters that some of those on the list are current senior officials, some others are former lawmakers and others are "former top military leaders."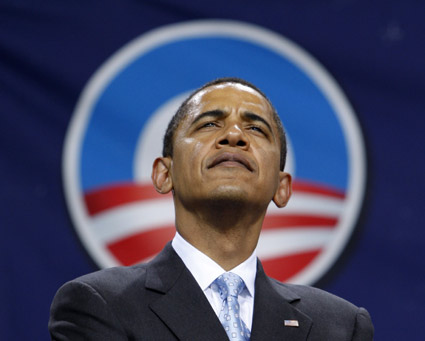 Presumptive Democratic Presidential nominee Senator Barack Obama is pictured on stage during a campaign rally in Bristow, Virginia, June 5, 2008. [Agencies]
Conrad made the remarks after he attended a meeting with Obama's three-person vice presidential vetting team in Congress, but he did not disclose any name on the list since the selective procedure is still kept as a secret.
During the "wide-ranging" discussion, Obama's team sought attendees' opinion and comment on every people on the list, including the respect they command and their "standing with their colleagues."
The vice presidential candidate is considered a key role to supplement Obama's lack of political experience, especially those in military and foreign affairs to offset Republican rival John McCain's advantages.
The three-person team was established last week to manage the vetting process, including former First Daughter Caroline Kennedy, former Deputy Attorney General Eric Holder and Jim Johnson, the former CEO of mortgage lender Fannie Mae who has done the same thing for former Democratic presidential nominees John Kerry and Walter Mondale.
Johnson and Holder arrived on Capitol Hill on Monday and kicked off days of meetings with top Democrats on the vice presidential candidate.