BERLIN  -- German Chancellor Angela Merkel and French President Nicolas Sarkozy began a one-day summit on Monday to seek compromises on key issues ahead of France's EU presidency.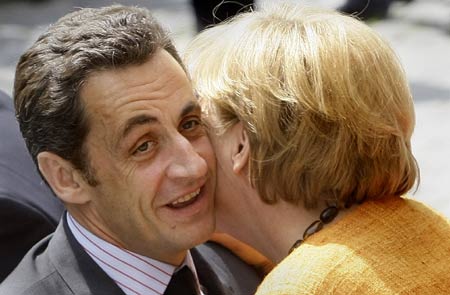 French President Nicolas Sarkozy (L) is welcomed by German Chancellor and head of Germany's Christian Democratic Union party (CDU) Angela Merkel as he arrives for a council of ministers meeting in the Bavarian town of Straubing June 9, 2008. [Xinhua] 
Energy and global warming are high on the agenda of the summit at the southern German town of Straubing, which also involved French Prime Minister Francois Fillon and the two countries' foreign, defense, economy and environment ministers.
In an interview with the German daily Straubinger Tagblatt published on Monday, Merkel said Sarkozy could count on Germany's full support during France's six-month EU presidency which begins on July 1.
One of the thorny issues which have put Germany and France at odds is France's plan to push through binding rules for EU states to implement ambitious greenhouse gas emission targets for cars.
Germany has said that EU plans to limit cars' carbon dioxide emissions would put Germany's luxury carmakers at a disadvantage to their French and Italian competitors which tend to build smaller, less polluting cars.
Meanwhile, a recent Sarkozy's proposal to cap soaring oil prices by lowering EU fuel taxes has won only a lukewarm response from Germany.
Merkel has said that she supports Sarkozy's initiative to coordinate the approach of the industrialized nations in this respect but stressed that this has to be done "in a goal-oriented and sustainable way."
Sarkozy is also expected to brief Merkel on his plans for the Mediterranean Union which is expected to become a centerpiece of France's EU presidency.
Germany, which sees the proposal as a competition to EU eastward expansion and an attempt to sideline Berlin, has repeatedly warned of unilateral French moves on the issue.
After strong resistance from Berlin, including the cancellation of the Franco-German summit which was initially planned to take place on March 3, Sarkozy finally promised to open the Mediterranean Union to all European nations.