GUANTANAMO BAY NAVAL BASE, Cuba -- Almost seven years after terrorists hijacked airliners and used them as missiles to kill 2,973 people, five men who allegedly plotted the attacks face a military tribunal Thursday.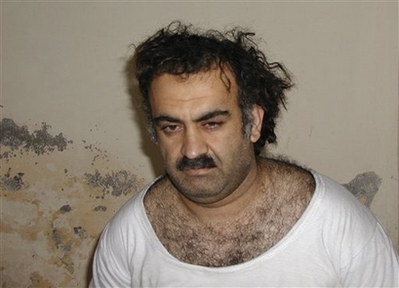 Khalid Sheikh Mohammed, the alleged Sept. 11 mastermind, is seen shortly after his capture during a raid in Pakistan in this file photo from March 1, 2003 in this photo obtained by the Associated Press. Mohammed, who could face the death penalty for his role in the Sept. 11 attacks, has been peppering his military lawyer with questions in advance of his war crimes trial at Guantanamo, the attorney tells The Associated Press. [Agencies]
Khalid Sheikh Mohammed, the confessed mastermind of the Sept. 11 attacks, will be arraigned simultaneously with four other detainees inside a high-security courthouse at the remote US Navy base in Guantanamo Bay, Cuba.
Mohammed boasted of numerous attacks and plots against the United States in a closed military hearing last year, and the al-Qaida kingpin and his confederates will be given the chance to speak out again in their war crimes trial, according to a top tribunal official, Air Force Brig. Gen. Tom Hartmann.
"In the course of trial they'll have opportunity to present their case, any way they want to present it subject to rules and procedures," Hartmann said. "That's a great freedom and a great protection we are providing to them. We think ... it is the American way."
The arraignment will launch the highest-profile test yet of a tribunal system that faces an uncertain future. The US Supreme Court struck down an earlier system as unconstitutional in 2006, and is to rule this month on the rights of Guantanamo prisoners, potentially delaying or halting the proceedings.
And with less than eight months remaining in US President George W. Bush's term, presidential candidates Barack Obama and John McCain both say they want to close the military's offshore detention center.
Dozens of US and international journalists arrived at Guantanamo on Wednesday on a military plane from Andrews Air Force Base outside Washington, joining prosecutors, defense attorneys and observers who arrived earlier at the Navy base.
Mohammed and the four alleged coconspirators all face possible death sentences. They are expected to be seated Thursday morning at separate defense tables aligned in a row inside the prefab courthouse. Many of the participants and observers will stay nearby in tents erected on an abandoned airport runway as part of the "expeditionary" legal complex.
Family members of those killed on Sept. 11, 2001, wanted to attend, but the military said it was too difficult logistically to accommodate dozens more people. Instead, the military is planning to show the trial but not the arraignment on closed-circuit television to victims' families gathered on US military bases.
"For transparency and to add legitimacy to the trial, they should have the loved ones there," said Dominic J. Puopolo, whose mother Sonia Morales Puopolo was a passenger on American Airlines Flight 11, the first jet that crashed into the World Trade Center.
Puopolo said he also wanted to see the defendants, especially Mohammed, who claimed he personally proposed the plot to Osama bin Laden.