ROME - World leaders meeting in Rome were to focus Wednesday on the roles of biofuels, trade practices and global warming in the food price crisis that is threatening more hunger, poverty and conflict worldwide.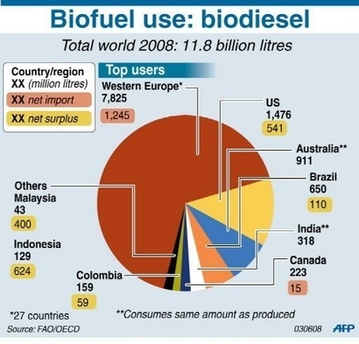 Graphic showing consumption of biodiesel by region. World leaders meeting in Rome are set to focus on the roles of biofuels, trade practices and global warming in the food price crisis that is threatening more hunger, poverty and conflict worldwide. [Agencies] 
In talks on Tuesday clouded by controversy focused on the presidents of Zimbabwe and Iran, UN Secretary-General Ban Ki-moon called for "bold and urgent steps to address the root causes of this global food crisis."
"We have a historic opportunity to revitalise agriculture," Ban told some 50 heads of state and government attending the three-day summit of the Food and Agriculture Organisation (FAO), adding that food output had to rise 50 percent by 2030 to meet ballooning demand.
With food prices at a 30-year high, the UN chief warned that while the world must "respond immediately," it must also put the long-term focus on "improving food security."
Prices have doubled in three years, according to the World Bank, sparking riots in Egypt and Haiti and in many African nations. Brazil, Vietnam, India and Egypt have all imposed food export restrictions.
On Wednesday, Ban was to lead a news conference attended by all the UN food agencies including summit host Jacques Diouf of the FAO, as well as the heads of the World Bank and the World Trade Organisation.
Ban's predecessor at the helm of the United Nations, Kofi Annan, was to attend a signing ceremony with the heads of the UN food agencies for the Alliance for a Green Revolution in Africa (AGRA), which encourages partnerships with small-scale farmers.
The high-profile summit will then break out into roundtables on the crucial issues of food price inflation, global warming and biofuels, as well as cross-border pests and diseases.
WTO chief Pascal Lamy spoke out on Tuesday against agricultural subsidies, saying they give an "unfair advantage" to certain countries and create market distortions.
"Negotiations on the reduction of agricultural subsidies ... in the framework of the Doha round could be part of the response to the crisis," Lamy said.
The charity Oxfam has also accused the international community of spending a "pittance" on supporting agriculture in developing countries compared with the huge support given to farmers in rich Western countries.
Diouf also took a swipe at the wealthy West on Tuesday, saying billions of dollars were being wasted on caring for the obese while millions starve around the world.
"No one understands ... how over-consumption by obese people in the world can cost 20 billion dollars each year," he said.
Another "100 billion dollars in indirect costs result from premature deaths and associated diseases," he said.
Diouf also noted that an estimated 1.2 trillion dollars was spent on weapons in 2006 while aid to agriculture fell by more than half, from eight billion dollars in 1984 to 3.4 billion in 2004.
For his part, Brazilian President Luiz Inacio Lula da Silva defended biofuels, saying they could be an "important tool" against food insecurity.
" Biofuels are not bandits. ... We must remove the smokescreen of powerful lobbies that blame ethanol production for the rise in food prices," he said.
Estimates vary on the extent to which demand for biofuels has pushed up food prices, ranging from 30 percent by some experts to less than three percent according to the US Agriculture Department.