WASHINGTON -- Barack Obama sealed the US Democratic presidential nomination Tuesday, a historic step toward his once-improbable goal of becoming the nation's first black president. A vanquished Hillary Rodham Clinton maneuvered for the vice presidential spot on his fall ticket.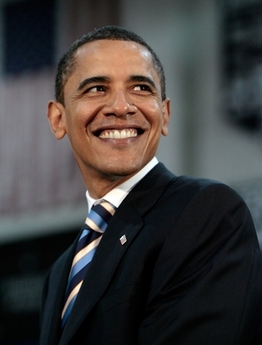 Democratic presidential hopeful Sen. Barack Obama arrives at a rally and town hall meeting in the Troy High School gymnasium June 2, 2008 in Troy, Michigan. Obama is campaigning in Michigan the day before primary contests in South Dakota and Montana, where he is polling ahead of his rival for the nomination, Sen. Hillary Clinton. [Agencies] 
Obama's victory set up a five-month campaign with Republican John McCain, a race between a 46-year-old opponent of the Iraq War and a 71-year-old former Vietnam prisoner of war and staunch supporter of the current US military mission.
Both men promptly exchanged criticism over the war in Iraq and sought to claim the mantle of change in a country plainly tired of the status quo.
"It's not change when John McCain decided to stand with George Bush 95 percent of the time, as he did in the Senate last year," Obama said in remarks prepared for delivery in St. Paul, Minnesota.
"It's not change when he offers four more years of Bush economic policies that have failed to create well-paying jobs. ... And it's not change when he promises to continue a policy in Iraq that asks everything of our brave young men and women in uniform and nothing of Iraqi politicians." In a symbolic move, he spoke in the same hall where McCain will accept the Republican nomination at his party's convention in September.
McCain spoke first, in New Orleans, and he accused his younger rival of voting "to deny funds to the soldiers who have done a brilliant and brave job" in Iraq. It was a reference to 2007 legislation to pay for the Iraq war, a measure Obama opposed citing the lack of a timetable for withdrawing troops.
McCain agreed with Obama that the presidential race would focus on change. "But the choice is between the right change and the wrong change, between going forward and going backward," he added.
One campaign began as another was ending.
On the final night of the primary season, Clinton won South Dakota, leaving Montana yet to be settled.
The former first lady praised her rival, whom she said "has inspired so many Americans to care about politics and empowered so many more to get involved. And our party and our democracy is stronger and more vibrant as a result."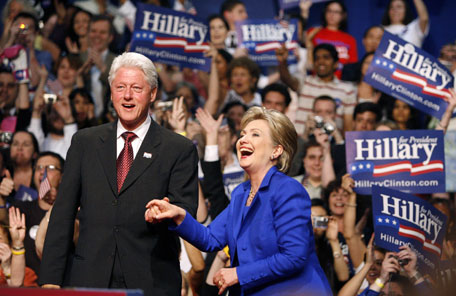 US Democratic presidential candidate Senator Hillary Clinton holds her husband former US president Bill Clinton's hand at her South Dakota and Montana presidential primary election night rally in New York, June 3, 2008. [Agencies]
"I am committed to uniting our party so we move forward stronger and more ready than ever to take back the White House in November," she said in a final-night rally in New York.
Only 31 delegates were at stake, the final few among the thousands that once drew Obama, Clinton and six other Democratic candidates into the campaign to replace Bush and become the 44th US president.
Obama sealed his nomination, according to The Associated Press tally, based on primary elections, state Democratic caucuses and delegates' public declarations as well as support from 19 delegates and "superdelegates" who privately confirmed their intentions to the AP. It takes 2,118 delegates to clinch the nomination at the convention in Denver this summer, and Obama had 2,129 by the AP count.
Obama, a first-term senator who was virtually unknown on the national stage four years ago, defeated Clinton, the former first lady and one-time campaign front-runner, in a 17-month marathon for the Democratic nomination.
His victory had been widely assumed for weeks. But Clinton's declaration of interest in becoming his ticketmate was wholly unexpected.
She expressed it in a conference call with her state's congressional delegation after Rep. Nydia Velazquez, predicted Obama would have great difficulty winning the support of Hispanics and other voting blocs unless the former first lady was on the ticket.
"I am open to it" if it would help the party's prospects in November, Clinton replied, according to participants who spoke on condition of anonymity because the call was private.
Clinton's comments raised anew the prospect of what many Democrats have called a "Dream Ticket" that would put a black man and a woman on the same ballot, but Obama's aides were noncommittal. "We're not in the presidential phase here. We're going to close out the nominating fight and then we'll consider that," David Axelrod, Obama's top strategist, told reporters aboard the candidate's plane en route to Minnesota.
The young Illinois senator's success amounted to a victory of hope over experience, earned across an enervating 56 primaries and caucuses that tested the political skills and human endurance of all involved.
Obama stood for hope, and change. Clinton was the candidate of experience, ready, she said, to serve in the Oval Office from Day One.
Together, they drew record turnouts in primary after primary -- more than 34 million voters in all, independents and Republicans as well as Democrats.
Yet the race between a black man and a woman exposed deep racial and gender divisions within the party.