HORMIGUEROS, Puerto Rico -- Hillary Clinton's campaign prepared for its next big test as it tried on Sunday to move away from her controversial remarks about the assassination of Robert Kennedy 40 years ago.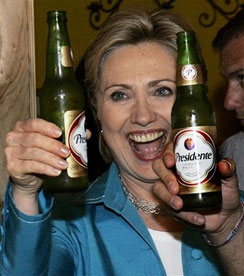 US Democratic presidential hopeful, Sen. Hillary Rodham Clinton, hoists a 'Presidente' beer at Sabor Latino Restaurant & Bar in San Juan, Puerto Rico, May 25, 2008. [Agencies]
The New York senator campaigned in Puerto Rico ahead of the island's Democratic presidential primary next Sunday, but before that she faces a major showdown -- possibly the final one -- when party officials meet to decide what to do with delegates from Florida and Michigan.
A decision on Saturday in her favor by the Democratic rules committee is key to her uphill fight with Barack Obama to win the Democratic nomination at the party convention this summer and face Republican John McCain in the November election.
The two states, who were stripped of their convention delegates for violating party primary rules, are believed to be formulating plans to allow at least some of the delegates to be counted.
Campaign chairman Terry McAuliffe was asked if Clinton would accept a decision that she did not particularly like.
"I am not saying that today," he said on "Fox News Sunday." "I'm saying let them make their decision and then we will determine."
Campaigning for a second day in Puerto Rico, where she is favored in Sunday's voting, Clinton accepted an invitation from a local television station to debate Obama on issues facing the island. "Anytime, anywhere," she said at a stop in Penuelas.
Puerto Ricans can help pick the Democratic nominee but the territory does not have the right to vote for president in November.
"If I had listened to those who had been talking the last several months, we would not been having this campaign in Puerto Rico today," she told a congregation of several hundred people in an evangelical church in Hormigueros.
Even as she tried to get the political discussion back to topics like the economy, her comments citing Robert Kennedy's assassination after winning the June 1968 California presidential primary were still the focus of political talk.
Context of Remarks
Writing in the New York Daily News, Clinton again explained she had mentioned the assassination in the historical context of a campaign that continued well into June. The former first lady said her remarks were taken out of context.
"I was deeply dismayed and disturbed that my comment would be construed in a way that flies in the face of everything I stand for -- and everything I am fighting for in this election," she wrote.
Others saw the mere mention of assassination as a reminder of the role such killings have played in US politics and that Obama, who would be the first black US president, has had Secret Service protection for more than year.