BANGKOK -- United Nations Secretary-General Ban Ki-moon attended a ceremony at Bangkok's Don Mueang Airport Saturday to officially open a UN Staging Area (UNSA) here as a logistic air hub for coordinating flown-in international assistance to victims of Cyclone Nargis in Myanmar.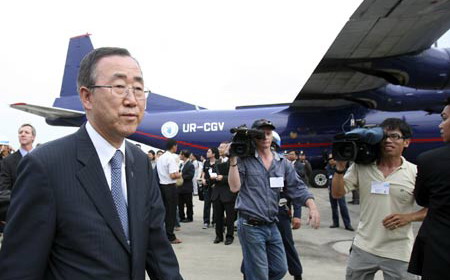 UN Secretary- General Ban Ki-Moon (L) walks out of an Antonov N12 aircraft during the ASEAN-UN cooperation inagural relief flight from UN Staging Area at Don Mueang International airport in Bangkok May 24, 2008. Ban attended a ceremony at Bangkok's Don Mueang Airport, Thailand, Saturday to officially open a UN Staging Area (UNSA) here as a logistic air hub for coordinating flown-in international assistance to victims of Cyclone Nargis in Myanmar. [Xinhua]
The event began around 5:10 p.m. (1010 GMT) Saturday afternoon at the airport's Cargo Warehouse No. 3 close to tarmac, where the newly established UNSA is located.
The Don Mueang Airport, the former Bangkok International Airport located in northern suburban Bangkok, had served as an air hub in the Southeast Asia for decades before the new Suvarnabhumi Airport opened in September 2006. It is now used mainly for domestic civil flights and military missions.
The UN and Thailand earlier agreed to use the airport as a staging post for relief supplies from international aid agencies for transshipment to Myanmar, where Cyclone Nargis hit May 2-3 and has left over 130,000 people dead or missing, according to Myanmar authorities.
The UN chief, as well as Thai Prime Minister Samak Sundarvej and ASEAN Secretary-General Surin Pitsuwan, who now heads a ASEAN-UN task force for coordinating international assistance for Myanmar cyclone victims, attended the event.
"It's our duty to do everything we can to prevent further deaths and suffering, that's why today's official opening of the Don Mueang air hub is so vital," said Ban at the ceremony.
"We're still at the relief phase of the crisis. The needy and vulnerable depend on the delivery of emergency assistance. Therefore the channeling of aid into Myanmar should be as efficient and logistically sound as possible," Ban said.
He said the facility will provide a critical staging area for the release efforts. "Our collaborative work will begin immediately and it will be bolstered along the way."
The inaugural relief flight which took off on the opening day of the UNSA for Yangon was an Antonov-12 flight loaded with three mobile water treatment plants and medical supplies donated by Norwegian Curch AID aid agencies.
The UN secretary-general said he was "humbled at the scale of the natural disaster, and humbled by the courage and resilience of the Myamar people" after he visited cyclone-affected areas in Myanmar on Thursday.
Ban earlier told the press that Myamar top leader Senior General Than Shwe, whom he met on Friday in Myanmar's new capital Naypyidaw, has agreed to allow international aid workers of any country into the affected areas and to have visa issue for foreign staff speeded up, the issue that has been the focus of appeals from international community.
Myanmar government earlier announced that the relief phase after the cyclone devastated the country was over, and it now needs assistance for rehabilitation and recovery of production.
Surin Pitsuwan, the ASEAN head who now leads a UN-ASEAN task force to coordinate international assistance efforts for Myanmar, has voiced skepticism about the claim, saying that needed verified assessment by neutral agencies, on which the international community would base their confidence to make and pledge to fund recovery and rehabilitation projects in Myanmar.
The UN chief will fly back to Yangon, the former capital of Myanmar, on Sunday to attend the International Pledging Conference co-organized by the UN and ASEAN, to talk with Myanmar officials, leaders of ASEAN countries and international donors to source international assistance, in supplies, money or personnel, for relief and rehabilitation in Myanmar.
Before attending the opening of UNSR, the UN chief on Saturday morning flied to the earthquake-stricken areas in Sichuan province in southwestern China, where he visited one of the most heavily-hit town Yingxiu and met Chinese Premier Wen Jiabao, who was in charge of relief work
Responding at the airport to a question about China's earthquake relief work, Ban praised China's quick response and effective efforts in relief after the 8.0-magnitude earthquake hit China on May 12 that claimed over 60,000 lives.
Ban said he was touched by how the Chinese premier has devoted himself overseeing the relief work in the affected areas.