UNITED NATIONS - Pope Benedict XVI told diplomats at the United Nations on Friday that respect for human rights was the key to solving many of the world's problems, while cautioning that international cooperation was threatened by "the decisions of a small number."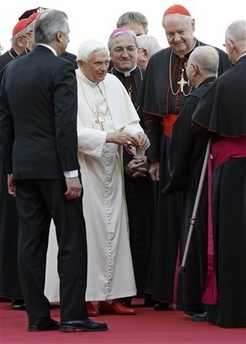 Pope Benedict XVI is greeted by members of the Catholic clergy, including Cardinal Edward Egan, archbishop of New York, third from right, as he arrives at John F. Kennedy International Airport in New York, Friday, April 18, 2008. [Agencies] 
The pontiff, addressing the UN General Assembly on his first papal trip to the US, said the organization's work is vital. But he raised concerns that power is concentrated in just a handful of nations.
"Multilateral consensus," he said, speaking in French, "continues to be in crisis because it is still subordinated to the decisions of a small number."
The world's problems call for collective interventions by the international community, he said.
Benedict, only the third pope to address the United Nations, made the remarks after three dramatic days in which he repeatedly discussed America's clergy sexual abuse scandal.
Benedict's U.N. address comes one day after he took the unprecedented step of meeting in Washington with a small group of victims of sexual abuse by U.S. priests.
The meeting, which was not on the pope's public schedule, took place after a morning Mass at the city's new Nationals Park baseball stadium.
"This was very important, because the victims have said that 'the church ignores us and our suffering,' and there's been little to counteract that," said University of Notre Dame church historian Scott Appleby.
Benedict and Boston Cardinal Sean O'Malley met with five or six victims for about 25 minutes in the chapel of the papal embassy here, said the Rev. Federico Lombardi, a Vatican spokesman. Attending were men and women, all abused as minors by priests in the Boston area.
The Associated Press reported that O'Malley presented the pope with a notebook listing the names of more than 1,000 victims from the Boston Archdiocese.
Appleby said the meeting was particularly important in light of the pope's speech today at the United Nations in New York City. "How could the pope go to the U.N. and talk about social justice if the church is perceived to be hypocritical or not compassionate on something like this?" Appleby said.
Some victims' advocates applauded the pope's decision to meet with sex abuse victims. "It's a small, overdue step forward, especially if it leads to genuine reform," said David Clohessy, executive director of SNAP (Survivors Network of those Abused by Priests).