Several years ago, a young deaf Canadian man, full of enthusiasm and passion, prepared to creat a website all by himself to be a resource for disabled people. Launched last year, Whistlerforthedisabled.com has become the leading website of its kind in North America. On it Hugh Tollett has collected information on accessible facilities for the disabled. He still continues to work hard on improving his website.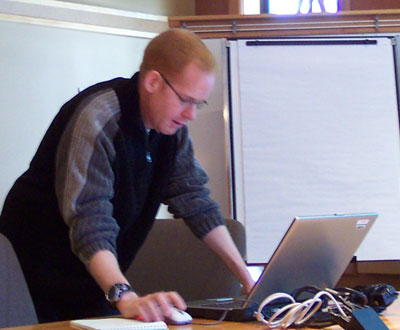 Hugh Tollett, founder of  Whistlerforthedisabled.com [chinadaily.com.cn]
His perseverance, friendliness and sincerity impress those who meet this determined young man.
When explaining the primary goal of building the website, his assistant said Tollett wanted to give visitors, both able-bodied and disabled as many opportunities as possible to participate in the invigorating mountain lifestyle of Whistler.
Tollett is also eager to inform people that accessibility is more important today than before. He says it's not just because of the upcoming 2010 Olympics and Paralympics – accessibility is important in everyday life and everybody should be more aware of it. In Canada, the population with disabilities is growing, so planning effectively for people with disabilities right now can ensure society will be more inclusive in the future.
In Tollett's view, a person with a disability doesn't mean he can't contribute positively to the society. His experience in the past couple of years clearly illustrates the disabled can do a lot of work and do it very well.
On his website there is a map of Whistler where facilities like washrooms, shops and ramps for wheelchairs are shown in symbols. In this way, everyone coming from all over the world can find the information they need easily whatever their native tongue is.
Currently Tollett is running the website by himself and looking for funding and assistance from the government, society and organizations. Having overcome all kinds of difficulties, he is still sticking to his goals and has become more ambitious. He now wants to help people with disabilities worldwide by making resources available to them on the Internet.
In Canada, one out of every eight people has a disability. For many years, the Canadian government has worked hard to create an environment that is accessible and nondiscriminatory for everyone. As a result, many disabled people are working in key areas, including Vancouver Mayor Sam Sullivan and Rob Sleath.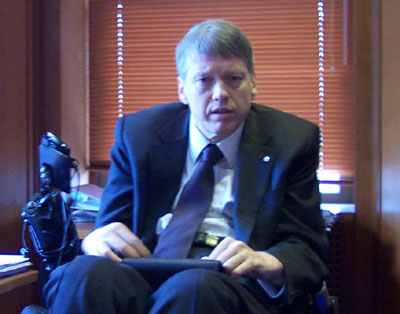 Sam Sullivan, Vancouver Mayor [chinadaily.com.cn]
Since accepting the Olympic Flag at the closing ceremony of the 2006 Olympic Winter Games in Turin, Sullivan has become one of the world's most recognized mayors. He became a quadriplegic after breaking his neck in a skiing accident at the age of 19. Previously physically active, Sullivan was depressed and tried to commit suicide many times. But he later changed his attitude towards life and devoted himself to studying a broad range of topics. He obtained a business administration degree from Simon Fraser University and has also taught himself several languages including Cantonese. He is also the founder of six non-profit organizations that have improved the lives of thousands of North Americans with disabilities.

Rob Sleath, president of Committee to Promote Accessible Conventional Transit [chinadaily.com.cn]
Rob Sleath is the president of COMPACT (Committee to Promote Accessible Conventional Transit). He's a blind man with a sunshine smile. He talks in a humorous way, showing his great love for people, for life and society. COMPACT cooperates with Vancouver's public transportation system TransLink, giving suggestions on how to improve transportation facilities to meet the requests of the disabled. He also acts as a representative for the organization www.guidedogs.com.