BAGHDAD - Visiting US Vice President Dick Cheney on Monday said the United States has made a "successful endeavor" in Iraq on the eve of the fifth anniversary of the US-led invasion.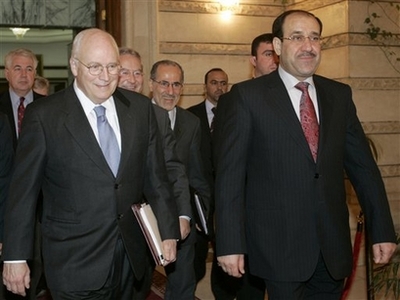 US Vice President Dick Cheney, left, meets with Iraqi Prime Minister Nouri al-Maliki, right, in Baghdad, Iraq, Monday, March 17, 2008. [Agencies]
Cheney, who arrived in Baghdad in the morning on an unannounced visit, met Iraqi Prime Minister Nuri al-Maliki and other Iraqi political figures.
He said there was a significant progress compared with 10 month ago when he was traveling here, adding security has improved dramatically and the Iraqi leaders have made progress in governing.
Yet, he pointed out that "it's clear there is still a number of major issues that need to be addressed."
Cheney made the trip three days ahead of the fifth anniversary of the Iraq war that falls on March 20.
"If you look back on those five years it has been a difficult, challenging but nonetheless successful endeavor ... and it has been well worth the effort," he said.
Nearly 4,000 US troops have died since the beginning of the war.
About 90,000 Iraqi civilians have been killed over the past five years, according to Iraqbodycount, a Website that traces the Iraqi war casualties.  
In addition, some 4 million Iraqis are still displaced, and the International Committee of the Red Cross said in a report on Monday that millions were still deprived of clean water and medical care.
While in Iraq, Cheney also talked with US Ambassador Ryan Crocker and Gen. David Petraeus, the top US military commander in Iraq. Crocker and Petraeus are slated to go back to Washington early next month to report to the Congress on the situation in Iraq.
Security has picked up since last summer after US President George W. Bush ordered to send some 30,000 extra troops to Iraq.
Bush was intended to create stable circumstances to the Iraqi leaders so that they would be able to seek political reconciliation.
However, the political progress has made little headway, raising concerns that the security gains could be lost.
The US plans to pull out five brigades by July. The military said that a pause for situation assessment is necessary before withdrawal of any more troops.
Cheney made a stopover here before his broader travel to Oman, Saudi Arabia, Israel, the Palestinian territories and Turkey.