COLUMBUS - Sen. Barack Obama said Saturday that the Republican presidential nominee in waiting, Sen. John McCain, has lobbyists as top aides and "many of them have been running their business on the campaign bus while they've been helping him."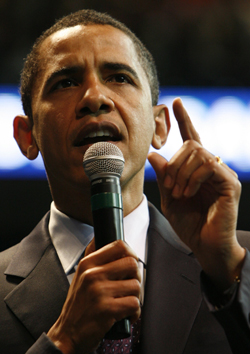 US Democratic presidential candidate Senator Barack Obama (D-IL) speaks during a rally in Corpus Christi, Texas February 22, 2008. [Agencies] 
The Democratic presidential hopeful also said McCain's health care plans reflect "the agenda of the drug and insurance lobbyists, who back his campaign and use money and influence to block real health care reform."
Jill Hazelbaker, a spokeswoman for McCain, said the Arizona senator "has been an agent for change for his entire career - he is the greatest change agent in our party - and we plan to highlight that record in this election."
Obama has criticized McCain increasingly in recent weeks, while running off 11 straight primary and caucus victories over his Democratic rival, Sen. Hillary Rodham Clinton.
Polls taken during the primary season show that independent voters are drawn in large numbers to both Obama and McCain, suggesting the two men would compete intensively for their support if they wind up opposing each other in the general election this fall.
Obama made his remarks as he campaigned for votes in the March 4 Democratic primary in Ohio, with 141 national convention delegates at stake.
He made health care a focus of his campaign day, visiting a hospital diabetes unit. At one point in a discussion with doctors and nurses, the talk turned to prevention of the illness in youngsters.
"If we just cut out soda pop," it would make a difference, he said.
Asked at a later news conference about the issue, he said he hopes schools will "re-examine how easily they make soda available."
Citing an increase in childhood obesity and diabetes, he said if children "are consuming vast amounts of soft drinks chock full of corn syrup, then we should, you know, consider whether we want to maybe have at least some zones like schools where they have to drink water once in a while."
Obama singled McCain out for criticism twice during the day, at one point saying that the Republican's health care proposals are worse than anything proposed in the race between himself and Clinton.