LOS ANGELES - Jewels and parties. Stars and stand-ins. Rehearsals and news conferences. So much swag even Hollywood canines could rack up free goodies. The city is abuzz with all things Oscar as celebrities flock from all over the world for Sunday's Academy Awards...
LADIES' NIGHT
Half a dozen A-list actresses stopped by the Kodak Theatre on Saturday to rehearse their lines for the next day's Oscar ceremony.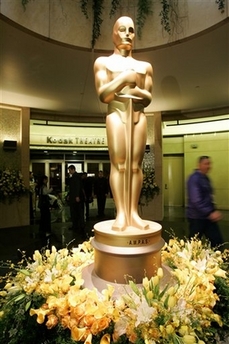 An Oscar statue is stands at the entrance to the Kodak Theatre Saturday, Feb. 23, 2008. The 80th Academy Awards will be presented on Sunday. [Agencies] 
Cameron Diaz, in a gray sweater, skinny black jeans and towering high heels, opened a prop winner's envelope and said, "The Oscar goes to - your mama. No, I'm just kidding."
She stepped off stage and bumped into Jessica Alba. "Hi, honey," Diaz said as she gave Alba a kiss.
Alba, who is expecting a baby with her fiance Cash Warren, hid her growing bump under a loose black tunic. Ponytailed and makeup-free, the star recapped her presentation two weeks ago of the academy's annual Sci-Tech awards - always a tongue-twisting challenge.
"You nailed it, hon," stage manager Dency Nelson told her. As soon as she walked off stage, she traded her high heels for comfy flats.
Renee Zellweger arrived in a sweat shirt, jeans and sneakers, her oversized Gucci bag slung over her shoulder. Before taking the stage, she plunked her bag on the floor and fished out a pair of tall Christian Louboutin heels. She left her socks and sneakers in a pile near her purse as she stepped out to rehearse her lines.
After hitting her mark, she slipped off the stilettos and tossed them back into her bag, saying, "Well, that's enough of these things for today" to no one in particular.
Zellweger greeted Katherine Heigl, who was headed to the stage carrying two pairs of heels. But shoes weren't her problem -- seeing the teleprompter was. Heigl narrowed her eyes as she tried to make out the words on the screen at the back of the theater.
"Oh, no," she said. "I'll try not to squint."
Also switching shoes was Jennifer Garner, who swapped her running shoes for high heels before stepping onstage. An assistant held her sneakers as Garner rehearsed.
Expectant mom Nicole Kidman didn't fuss with her shoes. Looking elegant enough to attend the awards a day early, she wore kitten heels with black tights, a black dress and a black overcoat that obscured her tummy. Her husband, Keith Urban, was also dressed all in black, from his ball cap down to his sneakers.
"Thank you for being here," a worker backstage said to the Oscar-winning actress.
"I'm so pleased," she said with a smile. "See you tomorrow."
STAR-STUDDED REHEARSAL
On Sunday, the Kodak Theater will be filled with stars. On Saturday, they appeared one at a time.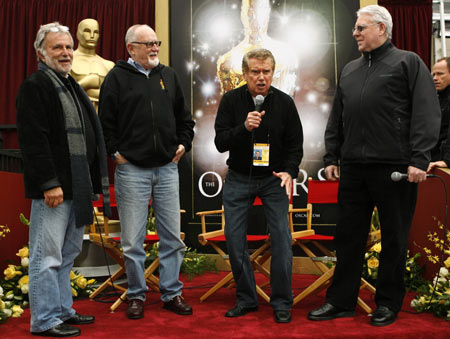 Oscar show pre-telecast host Regis Philbin (2nd,R) is joined by Academy of Motion Picture Arts and Sciences president Sid Ganis (L), telecast producer Gil Cates and telecast director Louis Orvitz during a news conference in preparation for the 80th annual Academy Awards in Hollywood Feb. 22, 2008. The Oscars will be presented Feb. 24, 2008. [Xinhua]
The eve of the Academy Awards is rehearsal day for celebrity presenters. One by one, in 15-minute increments, Oscar winners and other famous folks come to the Kodak to walk on stage and practice their lines.