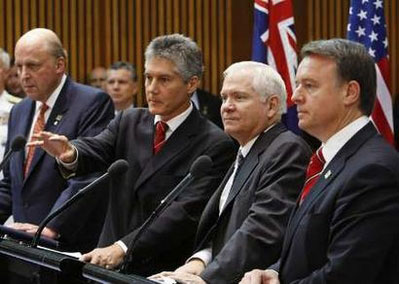 (L-R) US Deputy Secretary of State John Negroponte, Australian Minister for Foreign Affairs Stephen Smith, US Secretary of Defense Robert Gates and Australian Minister for Defence Joel Fitzgibbon speak to reporters after a bilateral meeting at Parliament House in Canberra February 23, 2008. [Agencies]
CANBERRA, Australia - The US should pursue a more positive dialogue with China, Australia's top diplomat said Saturday at the close of a daylong series of meetings with Defense Secretary Robert Gates and other US leaders.
Foreign Minister Stephen Smith told reporters during a press conference at Parliament House that Canberra's growing trade relationship with China will not hurt its strong and long-standing ties with America.
"It can be a win-win," he said, acknowledging that China was a topic of discussion during the meetings. "We can have a very good economic relationship with China, which doesn't adversely impact upon our relationship with the United States. On the contrary, we encourage the United States to have a good, positive, constructive dialogue with China."
US Deputy Secretary of State John Negroponte, who also attended the US-Australia sessions, told reporters earlier that the Americans hope to get some insight from the Australians on China matters, particularly from Prime Minister Kevin Rudd, an expert on China.
Gates and Negroponte also agreed that Australia's growing economic ties to China do not present a problem. China has become Australia's largest trading partner, serving as a booming market for its natural resources.
"I don't think there's anything incompatible with developing an economic relationship with China and also managing our bilateral relationship and the alliance," said Negroponte. "We both have important economic relationships with China."
In recent visits to China, Gates and some of his top US military officials have talked optimistically about improved political relations with China.
Also during the news conference Saturday, Australia's Defense Minister Joel Fitzgibbon said he wanted the option of buying Lockheed's F-22 Raptor, a fighter jet barred by US law from sale overseas.
Gates said he had no objection to the sale, but said Congress would first have to amend the law.
"While we in principle have no objection to it, until the statute is changed, we are not able to sell it to any country," Gates said.
This week Fitzgibbon announced a review of the previous government's decision to sign a $5.5 billion contract to buy 24 US-made F/A-18 Super Hornet fighter jets. While Fitzgibbon has said canceling the contract would put "some pressure" on the relationship, he did not expect Gates to raise the issue.