JAKARTA - Although banned by law as well as an Indonesian Council of Ulema (MUI) edict, some 2.5 million abortions will happen in Indonesia every year, an academician has said.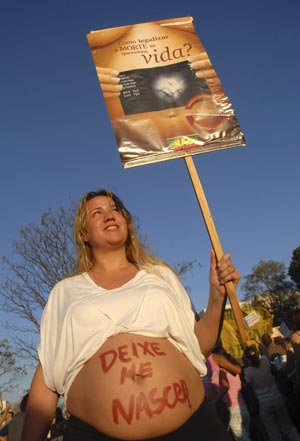 A pregnant woman participates in a national protest against abortion in Brasilia August 15, 2007. The words painted on the woman's stomach read, "Let me be born." [Agencies]
"The figure does not yet include abortions effected with non-medical assistance or with the help of shaman," Antara news agency Sunday quoted Professor Dr Jurnalis Uddin of Jakarta-based YARSI University as saying at a seminar here.
He said research conducted at a number of medical care institutions like hospitals had led to the conclusion that the problem of the illegal practice needs to be given serious attention by the government and society.
Research done by WHO in 2008 had shown 20-60 percent of abortions in Indonesia were induced abortions and 50 percent of the cases were done in urban areas, he said on Saturday.
In urban areas, 70 percent of the cases were conducted in stealth by medical practitioners, and in rural areas 84 percent of the cases were performed by shaman.
Most of the women on which abortions were conducted were in the20-29 age bracket.
The reasons women sought an abortion included rape-induced pregnancy, detected genetic defect in the fetus, unfavorable socio-economic conditions, ill health and failed contraception.