NEW YORK -- Oil futures shot higher Tuesday, closing above $100 for the first time as investors bet that crude prices will keep climbing despite evidence of plentiful supplies and falling demand. At the pump, gas prices rose further above $3 a gallon.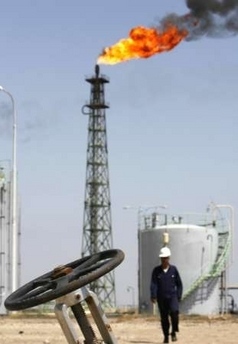 An Iraqi worker walks at Sheaiba oil refinery in Basra, 550 km (340 miles) south of Baghdad, in this March 29, 2007 file photo. [Agencies]
There was no single driver behind oil's sharp price jump; investors seized on an explosion at a 67,000 barrel per day refinery in Texas, the falling dollar, the possibility that OPEC may cut production next month, the threat of new violence in Nigeria and continuing tensions between the US and Venezuela.
The fact that there was no overriding reason for such a price spike could be a bad omen for consumers already bearing the burdens of high heating costs and falling real estate values. Many recent forecasts have said oil demand growth this year will be less than initially expected, yet prices continue to rise. That suggests they may continue rising as the weakening dollar attracts new investors to the futures market.
And rising oil prices mean higher gas prices.
"As the economy weakens, it's going to be met with $3.50 and $3.60 gasoline," said James Cordier, founder of OptionSellers.com, a Tampa, Fla., trading firm. "And that really spells trouble for the consumer."
Light, sweet crude for March delivery rose $4.51 to settle at a record $100.01 a barrel on the New York Mercantile Exchange after earlier rising to $100.10, a new trading record. It was the first time since Jan. 3 that oil had been above $100.
Oil prices are still within the range of inflation-adjusted highs set in early 1980. Depending on how the adjustment is calculated, $38 a barrel then would be worth $96 to $103 or more today.
Crude futures offer a hedge against a falling dollar, and oil futures bought and sold in dollars are more attractive to foreign investors when the greenback is falling.
Related readings:


 Crude oil prices to continue surging


 With oil prices rising, wood makes a comeback

 China to maintain price stability of grain, oil


 Venezuela halts oil supplies to Exxon Mobil


 OPEC: Oil output will not increase


 Oil output, consumption both hit record high in 2007
"I really think ... crude oil's going to soar through $100," Cordier said.
At the pump, meanwhile, gas prices jumped 1.8 cents to a national average price of $3.032 a gallon Tuesday, according to AAA and the Oil Price Information Service. Retail prices, which typically lag the futures market, are following oil prices higher. The Energy Department and many analysts expect gas prices to peak this spring well above last May's record of $3.227 a gallon.
Gasoline and heating oil prices appeared to lead Tuesday's wide advance in energy prices due to the explosion Monday at Alon USA's Big Spring, Texas, refinery, which could be shuttered for two months.
"The refinery fire in Texas is making people a little concerned," said Michael Lynch, president of Strategic Energy & Economic Research Inc. in Amherst, Mass.