MOSCOW - President Vladimir Putin, playing down recent hawkish statements from Moscow, said on Thursday Russia was not interested in a return to the Cold War.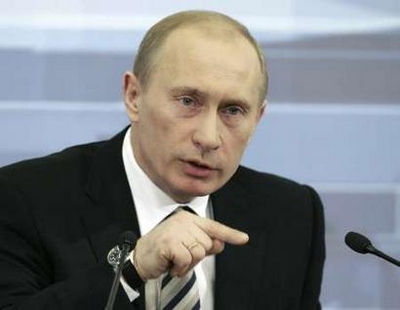 Russia's President Vladimir Putin speaks during an annual question and answer session in the Kremlin in Moscow February 14, 2008. [Agencies]
Criticism of NATO expansion and U.S. plans for a missile defence shield have been trademarks of Putin's presidency and he has also launched a Russian military build-up.
But in his last annual news conference before leaving the Kremlin in May, Putin struck a more conciliatory note even though he restated Russia's opposition to Western plans to let the Serbian province of Kosovo declare independence.
"To suppose that we aspire to return to the times of the Cold War is just too bold a supposition," Putin told hundreds of reporters in the Kremlin's Round Hall.
"We are not interested in this. Our main tasks are internal development, the solution of social and economic problems of the country."
Russia was willing to work "towards the construction of a positive dialogue" with whoever won the U.S. presidential election and did not intend to target any country with its nuclear missiles except in "extreme necessity", he said.
Answering questions about the aftermath of the Russian presidential election, Putin said he never wanted to cling to power for life and would be happy to stand aside for Dmitry Medvedev, the overwhelming favourite to win the March 2 vote.
"There is a personal chemistry, I trust him," Putin said. "This is a person to whom it is not shameful and not frightening to hand over the leadership of the country."
PRIME MINISTER
Putin, 55, has said he will become prime minister in a Medvedev presidency but he rejected suggestions he would be pulling the strings from outside the Kremlin.
"Dmitry Anatolyevich (Medvedev) and I have worked together for more than 15 years, and I would never have deigned to support a candidate for president if he needed coddling and advice on how to behave. He's a mature politician."
Putin said he would be premier "as long as it's possible" during a Medvedev presidency.
The Russian president addressed for the first time, using typically colourful language, allegations in some Western media that he had amassed a personal fortune.
"I am rich because the people of Russia twice entrusted me with leading a great country like Russia," Putin said. "I believe this is my greatest wealth."
"As for various rumours about my personal wealth ... that is empty talk which shouldn't even be discussed," he said. "I've seen some papers...That is just rubbish, just excavated from someone's nose and then spread on those bits of paper".
Speaking on a raised platform in front of a background decorated with Russia's national colours and flanked either side by two giant television screens, Putin began the news conference by reeling off statistics describing Russia's economic boom, which has lasted throughout his eight years in the presidency.
Real incomes, pensions and living standards had risen dramatically, he said, though close attention needed to be paid to inflation, now running at around 12 percent a year.
"I do not see any serious failures," Putin told a questioner. "All the tasks we set ourselves have been achieved".
Officials said that a record 1,364 journalists were accredited for the news conference, an annual marathon carried live on state television across Russia.
Last year's news conference lasted three hours 32 minutes and Putin fielded more than 60 questions on subjects ranging from the presidential succession to the idea of setting up an OPEC-style gas producers' group with Iran and other nations.