Tigers are facing extinction in both the Indonesian island of Sumatra and the South Asian country of India, according to recent studies.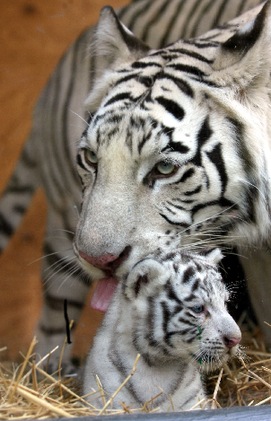 A white tiger cleans its five-week old cub at the metropolitan zoo in Santiago February 4, 2008. [Agencies]
Tigers are in grave danger of extinction on Sumatra, where tiger teeth, claws, skin and whiskers are being openly sold.
A report by wildlife monitoring group Traffic concluded yesterday the island's last big cats may soon die out.
A survey of 326 goldmiths, traditional Chinese medicine outlets and souvenir and antique shops carried out by the British-based group in 2006, estimated at least 23 tigers had been killed to produce the contraband products it found.
"This is down from an estimate of 52 killed per year in 1999-2002," said Julia Ng, Program Officer with Traffic Southeast Asia and lead author of the report, The Tiger Trade Revisited in Sumatra, Indonesia.
"Sadly, the decline in availability appears to be due to the dwindling number of tigers left in the wild," she said.
Forest clearances, killings due to human-tiger conflict and illegal trade in their parts and derivatives have halved numbers from an estimated 1,000 in the 1970s.
"The Sumatran tiger population is estimated to be fewer than 400 to 500 individuals. It doesn't take a mathematician to work out that the Sumatran Tiger will disappear like the Javan and Bali tigers if the poaching and trade continues," she said.
The Sumatran tiger, Panthera tigris sumatrae, is the most critically endangered of the world's tiger subspecies.
Related readings:


 Student's mouth-to-muzzle saves tiger cub


 Volunteers establish tiger-protection web site


 Conservationists use poll to back China's tiger trade ban


 Two tiger cubs found dead in zoo refrigerator
All trade in its parts is banned, and offenders are liable to a $11,000 fine.
But tiger bones and penises have long been used in traditional medicines, and tiger parts are also used for magical purposes in Sumatra, the Traffic report said.
Canine teeth are used in jewelry that is believed to bring luck and protection to wearers, claws are inlaid with gold as necklace pendants, and whiskers and pieces of skin are sold to protect the owner from black magic spells.
Last December Indonesian president Susilo Bambang Yudhoyono announced a 10-year strategy to protect the Sumatran tiger.
But the Traffic report found lax enforcement was undercutting attempts to save the tigers, with no tiger-related prosecutions between 2004-06 in the hotspots of Medan and Pancur Bat. Responding to the report, the government acknowledged that more needs to be done.
"We have to deal with the trade. Currently we are facing many other crucial problems which, unfortunately, are causing the decline of tiger populations," said Dr Tonny Soehartono, Director for Biodiversity Conservation, Ministry of Forestry of Republic of Indonesia.
Meanwhile, the number of tigers in India has plummeted to around 1,411, nearly half the previous estimate, as humans either kill them for body parts or encroach on their habitat, a government survey has found.
The estimate is based on the final results of a new tiger census by the government-run National Tiger Conservation Authority and is based on a new counting method.
It contradicts the previous figure of 3,642 reported by a 2001 and 2002 census.
"The tiger has suffered due to direct poaching, loss of quality habitat, and loss of its prey," Rajesh Gopal, a member of National Tiger Conservation Authority, said in a statement released late on Tuesday.
The 1,411 number is an estimate. A margin of error of the survey means the numbers could be as low as 1,165 or as high as 1,657, the report said.
Agencies