JANESVILLE, Wis. -- Democrat Barack Obama said Wednesday that as president he would spend $210 billion to create jobs in construction and environmental industries, as he tried to win over economically struggling voters.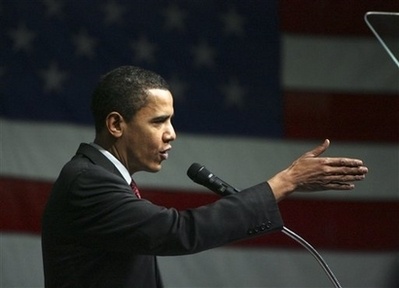 Democratic presidential hopeful, Sen. Barack Obama, D-Ill., makes remarks during a tour of the UAW Plant in Janesville, Wis. Wednesday, Feb. 13, 2008. [Agencies]
Obama's investment would be over 10 years as part of two programs. The larger is $150 billion to create 5 million so-called "green collar" jobs to develop more environmentally friendly energy sources.
Sixty-billion dollars would go to a National Infrastructure Reinvestment Bank to rebuild highways, bridges, airports and other public projects. Obama estimated that could generate nearly 2 million jobs, many of them in the construction industry that's been hit by the housing crisis.
"This agenda is paid for," Obama said as the Republican National Committee promoted an "Obama Spend-O-Meter" online to track his proposals and portray him as a tax-and-spend liberal. Obama explained that the money for his spending proposals will come from ending the Iraq war, cutting tax breaks for corporations, taxing carbon pollution and raising taxes on high income earners.
Neera Tanden, Hillary Rodham Clinton's policy director, said Obama was offering ideas Clinton proposed months ago. "Voters may ask themselves that if Senator Obama cannot produce his own ideas on the campaign trail, how will he solve new problems as president?" Tanden said in a memo e-mailed to reporters.
Obama, who has faced criticism that he doesn't have enough policy specifics, asked autoworkers at the General Motors plant in Janesville, Wis., to "bear with me" as his began a policy speech that he said would be unlike his typical rousing addresses. He read from a TelePrompTer in an industrial training room, flanked by sparkling new vehicles and a large American flag.
"Today I want to take it down a notch," Obama said. "This is going to be a speech that's a little more detailed. It's going to be a little bit longer, not as many applause lines."
Obama pointedly did not include one of his biggest applause lines, that he would require vehicle manufacturers to raise fuel economy standards. Obama often points out that he delivered that message straight to the automakers during a speech last year in Detroit.
But he didn't mention it on the plant visit that came a day after GM reported the largest annual loss ever for an American automaker -- $38.7 billion in 2007.
"I know that General Motors received some bad news yesterday," Obama said. "I also know how much progress you've made, how many hybrids and fuel-efficient vehicles you're churning out. And I believe that if our government is there to support you, and give you the assistance you need to retool and make this transition, that this plant will be here for another hundred years."
Obama heads into Tuesday's Wisconsin primary as the favorite in the state and the front-runner for the nomination. His victories in the last eight contests have put him ahead of Clinton in the delegate chase.
But Obama did not pursue the front-runner strategy of ignoring rivals. He repeatedly criticized Clinton in an effort to beat back the challenge she still poses to him.
He tied her to likely Republican presidential nominee John McCain for their shared vote to authorize the war in Iraq. He lumped her with President Bush for offering an economic recovery plan that didn't include immediate relief, without mentioning that both the president and Clinton quickly adopted tax rebates.
Obama's appearance in Janesville was part of a strategy to reach out to voters who might be struggling in the economy and who have supported Clinton in most contests so far. Combining exit polls from 19 states that had competitive Democratic primaries before Tuesday, Clinton had a 49 percent to 46 percent edge over Obama with voters who named the economy as the No. 1 problem.
But Obama seemed to be turning that around in his most recent victories Tuesday. In Virginia and Maryland, Obama dominated among the one-half of Democratic voters who named the economy as their chief concern. In both states, about six in 10 Democrats who cited the economy voted for Obama