COLUMBUS, Ohio -- The man who served as national manager of former President Clinton's 1992 campaign endorsed Sen. Barack Obama on Wednesday. David Wilhelm, who led the campaign and later became chairman of the Democratic National Committee, said Obama had the unique ability to encourage cooperation as a 65-percent president after the divisive years of a 51-percent majority.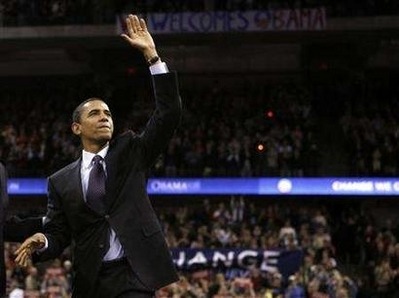 US Democratic presidential candidate Senator Barack Obama (D-IL) greets a crowd of supporters at his Virginia, Maryland and Washington primary election night rally in Madison, Wisconsin, February 12, 2008. [Agencies]
He was referring to the notion that Obama could govern the country with the support of a large coalition, as opposed to more polarized support for President Bush.
Wilhelm is a superdelegate who was previously uncommitted in the race. His endorsement helps Obama in the race for delegates, in which he pulled ahead after Tuesday's sweeps of primaries in Virginia, Maryland and the District of Columbia. Clinton remains considerably ahead in superdelegates, which are party officials, elected officials and others who can vote however they choose at the nominating convention.
If the race for pledged delegates based on outcomes in caucuses and primaries across the country remains tight, superdelegates could decide the nomination.
Obama leads the delegate race with 1,224 to 1,198 to Clinton, according to the latest count by The Associated Press.
Persuading superdelegates to back Obama will be a crucial role for Wilhelm in the Obama campaign, he said.
"The only reason this race appears to be closer than it actually is is the number of superdelegates that bought into Senator Clinton's inevitability early -- too early, it seems," Wilhelm said.
The Clinton campaign predicted Wednesday it would be in a virtual tie with Obama in delegates after March 4 primaries in Ohio, Texas, Vermont and Rhode Island, separated by no more than 25 delegates.
Wilhelm said the Democrats could never win a contest about experience over Sen. John McCain, the likely Republican nominee, but could win -- with Obama -- an election that was framed around change.