WASHINGTON - Mullah Omar and other Taliban leaders are directing insurgency operations in Afghanistan from the Pakistani city of Quetta, while al Qaeda leader Osama bin Laden is operating from Pakistan's tribal areas, a senior US administration official said on Friday.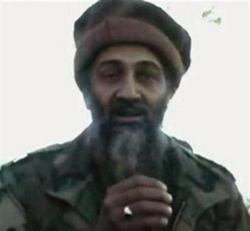 Al Qaeda leader Osama bin Laden in a video grab from undated footage obtained in 2007. [Agencies] 
Bin Laden, his deputy Ayman al-Zawahri and others are operating out of Pakistan's Federally Administered Tribal Areas (FATA) bordering Afghanistan, the official told reporters on condition of anonymity.
"Just as Mullah Omar is giving strategic direction for the Taliban from Quetta, al Qaeda senior leadership is in the FATA doing its planning," the official said, without giving the source of the intelligence.
"The iconic leaders of al Qaeda - Zawahri, bin Laden and people like (Abu Laith) al-Libi are in the tribal areas of Pakistan," the official added.
Libi was killed in January in a suspected US missile strike in Pakistan's North Waziristan border area.
Bin Laden, the suspected mastermind of the September 11 attacks, and Mullah Omar are believed to have fled Afghanistan soon after the US-led invasion that overthrew the Taliban government in late 2001.
Despite the presence of al Qaeda leaders in Pakistan, the official said the administration still saw Pakistani President Pervez Musharraf as a worthy ally.
"There are multiple sources of pressure and instability on Musharraf and the sense here has been what he really needs is a dependable partner to see him through this period and that's been sort of the strategic logic of supporting Musharraf," the US official said.
The Pakistani president over time has "given us evidence that he is worth that kind of commitment both in terms of the degree to which his forces have taken on al Qaeda in particular, and the extent to which we think he's doing quite well given the hand he was dealt."
The Bush administration also has been very impressed with Pakistani army chief Gen. Ashfaq Kayani and considers him a "promising partner," the official said.