NAIROBI, Kenya -- Hundreds of rebels penetrated the capital of Chad on Saturday, clashing with government troops and moving on the presidential palace after a three-day advance through the oil-producing central African nation, officials and witnesses said.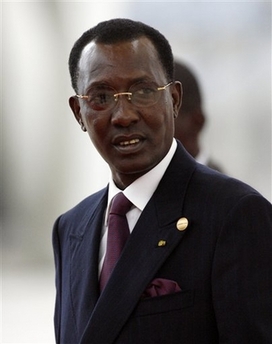 Chad's President Idriss Deby arrives for an EU Africa Summit in Lisbon, Sunday December 9, 2007. Heavy gunfire was heard February 2, 2008 near the presidential palace in Chad, a hotel operator reached by telephone said, and rebel forces were believed to have reached the capital after a lightning advance across the desert in pickup convoys. [Agencies]
Col. Thierry Burkhard, a French military spokesman, said groups of rebels gathered outside the capital, N'Djamena, overnight before 1,000 to 1,500 fighters entered early Saturday and spread through the city.
A leader of Chad's main opposition alliance, which is unarmed and not associated with the rebels, said shooting erupted after rebels entered the city around 8 a.m. but appeared to die down about two hours later. Ibni Oumar Mahamat Saleh said about 12:45 p.m. that there were no soldiers in his neighborhood and state radio had gone off the air.
"At the moment we are not hearing any firing ... The rebels are in the city. Civilians are in the streets. They are watching what is happening," said Saleh.
The renewed fighting has led the European Union to delay its peacekeeping mission in both Chad and neighboring Central African Republic, which was due to be up and running early next month, said Commandant Dan Harvey, speaking at the EU military headquarters in Paris on Friday. The deployment of the advance force could be postponed for days, he said.
The force already has met repeated delays. It is aimed at protecting refugees from the conflict-wracked Sudanese region of Darfur, which borders Chad, as well as protecting Chadians and Central Africans displaced by turmoil in their own countries.
The new head of the African Union said Saturday that the bloc would not recognize Chadian rebels should they seize power.
"If the rebellion succeeds, certainly we will excommunicate them from the African Union until normalcy and democratic institutions are restored in that country, if it has to happen that way at all," Tanzania's President Jakaya Kikwete told a news conference.